Growing up in Chicago, Hoda Mahmoud rarely came across dentists who looked like her. "Only later did I make the connection that it was not due to a lack of interest in the field; rather, it was a lack of opportunities and representation in dentistry," says Mahmoud, now a member of the Class of 2025 at the Harvard School of Dental Medicine (HSDM).
A 2020 analysis by the Health Policy Institute confirms Mahmoud's observation, finding that the racial and ethnic composition of the U.S. dental workforce doesn't reflect that of the U.S. population. According to the study, the U.S. dental workforce is over 70 percent white and 18 percent Asian, with all other groups of color making up less than 12 percent—even though these groups compose more than a third of the U.S. population. Increasing diversity in dentistry can lead to more equitable and higher-quality oral health care for communities of color, whose limited access to dental care contributes to higher rates of periodontal disease, diabetes, and cardiovascular disease.
Mahmoud is the inaugural recipient of the Freeman, Grant, Franklin Scholarship at HSDM, established to support predoctoral students from underrepresented backgrounds. Activated with a capstone gift from the Colgate-Palmolive Company, the scholarship pays tribute to prominent figures in HSDM's history: Robert Tanner Freeman DMD 1869, the first African American in the country to graduate from a dental school; George Grant DMD 1884, Harvard's first African American faculty member; and Dolores Mercedes Franklin DMD '74, PD '76, the first African American woman to graduate from HSDM.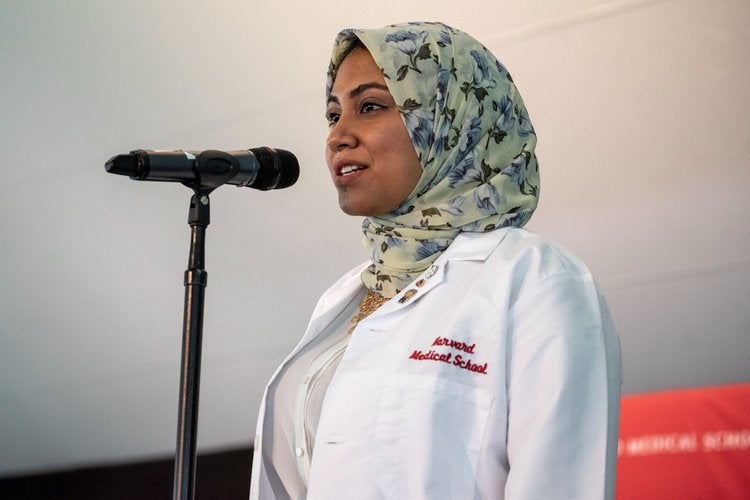 The scholarship, which will be awarded annually, is also funded by gifts from HSDM alumni and community members who are dedicated to expanding diversity in dentistry. These include scholarship namesake Dolores Mercedes Franklin, who went on to achieve many other firsts, such as becoming the first woman and the first person of color to hold the top-ranking dentist executive position in a Fortune 500 pharmaceutical company. Through her trailblazing career and her financial support, Franklin is helping to pave the way for future dentists to increase equity in oral health care for all Americans.
"Our students are entering a profession when there still exists an underserved population—a dire separation of those who have oral health needs and those who have access to care," Franklin says. "This scholarship holds the promise of attracting highly qualified students with financial need and preparing them to be global leaders in their fields, dedicated to improving human health, and in doing so, addressing health disparities." 
Throughout her career, Franklin has advocated for oral health as integral to systemic health, including through her work leading Oral Health, Programs, and Policy as assistant health commissioner for New York City with a dual reporting line to the NYC Health and Hospitals Corporation, the nation's largest public health care system.
---
"The Harvard School of Dental Medicine has a long legacy of embracing diversity. Our donors' generous support will help further our ethos to promote greater diversity, inclusion, and belonging in dental education and in oral health research."
---
Much like Franklin, Mahmoud is focused on oral health as fundamental to overall well-being. As she embarks on her academic journey at HSDM, she hopes to become involved in public health research, with the goal of minimizing the negative effects that socioeconomic status can have on patient care. She's also interested in exploring the connections between mental health, systemic health, and oral health.
"As the daughter of immigrants, I have witnessed the difference in care and empathy between providers that are well-rounded in their experiences with diverse cultures, and those that have limited encounters with their patient pool," Mahmoud says. "Empathy comes with experience, and it is an essential trait that is needed in the health care field. This scholarship has increased my interest in providing better care for minority groups. With this scholarship, I hope to be a part of the solution."