Many people may be surprised to learn that Harvard is a preeminent institution for research, teaching, and scholarship on the global food system—thanks in large part to the work of longtime faculty member Ray A. Goldberg AB '48, MBA '50, the George M. Moffett Professor of Agriculture and Business emeritus at Harvard Business School (HBS). Goldberg revolutionized the global food industry with his vision and ability to lead change. Now, a newly endowed professorship will honor his lifelong dedication to this field and provide resources for a future scholar of this vital area of research and teaching, enabling Harvard to continue its leadership in one of the world economy's most important sectors—one where everyone is a consumer.
This professorship is especially timely as many pressing global challenges—including climate change, political instability, economic inequality, and public health—are interwoven with key food system issues, such as production, consumption, and security. Working to bring leaders in the system together to collectively solve these challenges requires a multidisciplinary approach and a continuation of Goldberg's unique ability for breaking down silos.
Sitting under the umbrella of the Office of the Provost, this University-wide, subject-specific chair will unite disciplines across Harvard to connect deep knowledge with practical responses to the growing challenges linked to food in our interconnected world. This professorship will provide permanent resources at Harvard for a future leader who reflects Goldberg's innovative approach that led to new frameworks for global supply management, information sharing, food safety, risk management, sustainability, and education.
---
"Ray Goldberg established the study of agribusiness and food more generally as an important field of inquiry at Harvard and beyond. This area of study has only increased in importance as concerns about climate and sustainability have focused new attention on agricultural and food production. I am honored that leaders of the global food system have chosen Harvard to steward his vital work and carry it forward."
---
A Trailblazer in Research and Education
Goldberg, who arrived at Harvard as an undergraduate student in 1944 from Fargo, North Dakota, not only defined the term "agribusiness" but also built the foundation for the next generation of scholars and industry leaders to tackle challenges facing the global food system. Together with John Davis, former U.S. assistant secretary of agriculture, he articulated the concept of agribusiness that would come to define the industry. Goldberg and Davis examined how the chain of systems from the farm supplier to the farmer, food processing companies, retailers, and ultimately consumers formed an interrelated network—not a series of separate silos—which enabled these sectors to understand and appreciate their interdependence.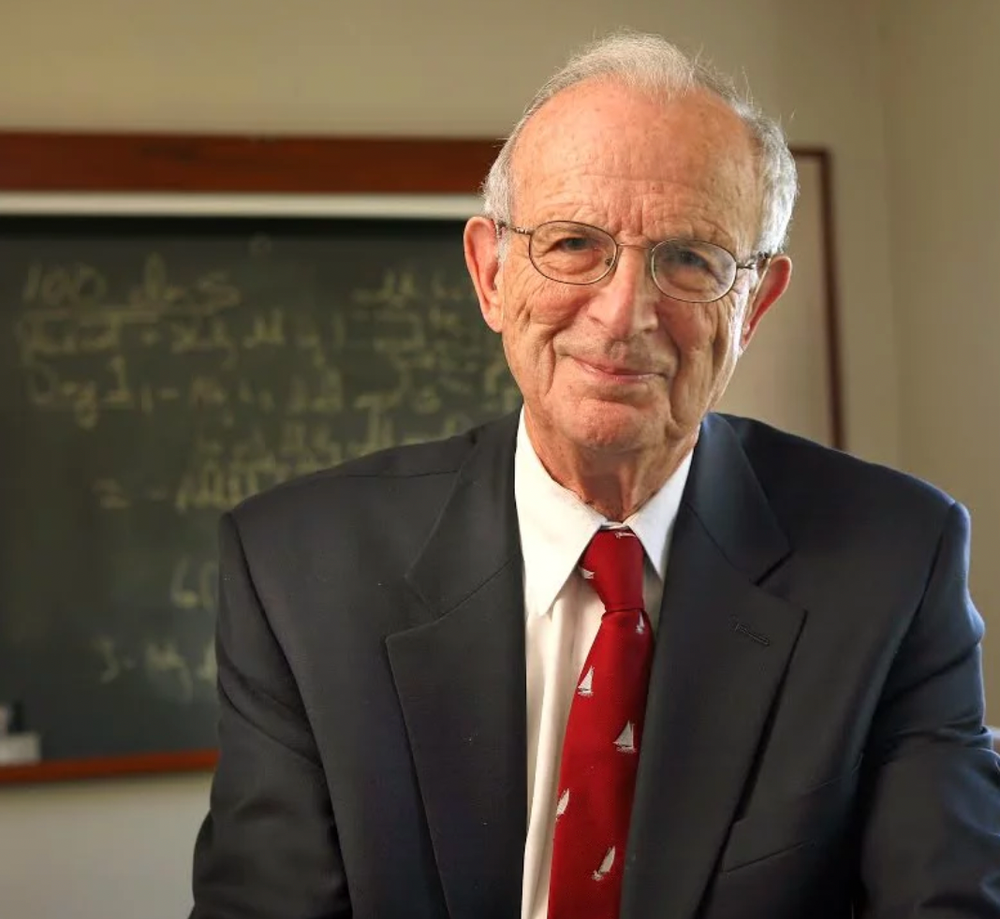 Goldberg developed the first courses in agribusiness at HBS—establishing a novel academic approach that has been replicated at more than 100 universities across the world. He also founded and led the Senior Management Agribusiness Seminar at HBS, which has held annual meetings for more than 60 years to train senior managers. For almost 30 years, he has convened the Private and Public, Scientific, Academic, and Consumer Food Policy Group (PAPSAC), a worldwide forum for discussing emerging critical issues and building long-term relationships across all components of the food system.
In addition to this, he has taught courses on food policy at Harvard Kennedy School and seminars at Harvard College on climate and its impact on food availability. Throughout his career, Goldberg developed hundreds of case studies on the global food system—creating entirely new course content every year. In 2001, he received the HBS Distinguished Service Award for his dedication to research and education.
Building Consensus Across the Food System
Leaders and participants across the global food system—along with friends, family, and colleagues organized through the Goldberg Charitable Corporation to Improve the Food System—joined together to support the Ray A. Goldberg Professorship of the Global Food System Endowment Fund.
"This widespread support reflects a global interest in this professorship and Ray Goldberg's history of building consensus across disciplines," says Brian G. Rothwell, a board member of the Goldberg Charitable Corporation to Improve the Food System.
"It is more timely and critical than ever to establish a University-wide professorship focusing on the global food system that draws on Harvard's interdisciplinary strengths," adds Shari Rogge-Fidler MBA '90, a member of the committee that led the fundraising efforts.
The breadth and depth of this support reflect Goldberg's work as a coalition-builder and the desire of leaders across academia and industry to ensure that Harvard continues to play a central role in this field. Harvard is positioned to lead this type of multidisciplinary educational effort and has a proven track record of providing a systemic, synergistic approach to the problems and opportunities of the global food system that is unique among academic institutions.
For Goldberg's son, Marc AB '79, MBA '82, JD '83, also a board member of the Goldberg Charitable Corporation to Improve the Food System, it has been gratifying to see the groundswell of support for the professorship from those who have been impacted by his father's work.
"We hope the person who holds this professorship will continue my father's work with industry and academic institutions around the world and encourage collaboration among the wide range of stakeholders across the food system," he says. "This is his most important legacy and our best hope for advancing the future of a field that impacts us all."