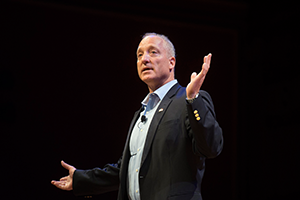 In the future, the leading institutions of higher education will be those agile enough to capitalize on unexpected opportunities and meet unforeseen needs. The Dean's Leadership Fund gives the Faculty of Arts and Sciences that agility, ensuring Harvard's ability to continue as a place of discovery and a premier source of ideas, advancing teaching, learning, and research, and leading change in the world.
Key Facts
The Dean's Leadership Fund is the cornerstone of our mission and impacts nearly all areas of the institution. These unrestricted funds allow Dean Michael D. Smith to remain steadfast in our commitment to world-class research and teaching, while fostering creativity and the pursuit of new ideas.
The Dean's Leadership Fund supports the majority of student activities in the arts, athletics, advising, career services, international programs, and residential life, resulting in opportunities for Harvard College students that have a life-changing impact.
Gifts to the Dean's Leadership Fund have helped seed the launch of HarvardX, early investment in House Renewal, innovation in the General Education curriculum, increases in financial aid, summer research programs (PRIMO, PRISE, BLISS), and green projects such as the installation of solar panels on Canaday Hall.
Our current Campaign priorities all began as initiatives made possible with funding from the Dean's Leadership Fund. Contributions to the fund today provide flexibility for Dean Smith to invest in the next generation of great ideas that arise from our faculty and students.