With gratitude to Harvard for an opportunity
May 10, 2018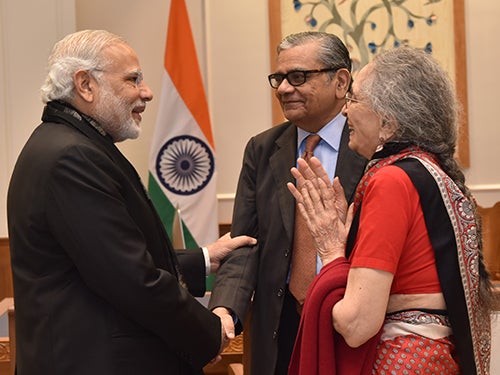 In the early 1950s, Padma Desai was one of the highest-ranking university students in her native India. Inspired to pursue economics by her college professor, she set her heart on coming to the United States to study at Harvard. However, to that point, such opportunities were scarce for women in her culture. "Middle-class Indian parents—even when enlightened like my father, who was a social reformer—sent only their sons abroad," she says. "So I made sure that I never lost my first rank, and earned enough prizes and scholarships to be able to go on my own."
In 1954, she was admitted to the PhD program in economics at Radcliffe College and received a fellowship from the American Association of University Women. Her dream had come true. "Harvard gave me the confidence in my ability to achieve my ambition to be an outstanding economist. The world opened up for me," says Desai PhD '60, who is now the Gladys and Roland Harriman Professor of Comparative Economic Systems Emerita at Columbia University.
During her time at Harvard, Professor Desai met her future husband, Jagdish Bhagwati. A fellow economist and a professor, Bhagwati had a deep appreciation for Desai's personal accomplishments and became her greatest champion.
"Middle-class Indian parents—even when enlightened like my father, who was a social reformer—sent only their sons abroad, so I made sure that I never lost my first rank, and earned enough prizes and scholarships to be able to go on my own."
—Professor Padma Desai PhD '60
"Until she came to Harvard, only a few women belonging to the elites—India's one percent—had been to foreign universities. But Padma was arguably the first young woman who had 'made it' on her own," says Bhagwati, who is University Professor of Economics, Law, and International Relations at Columbia. "She was 'liberated' at Harvard from the heavy hand of Indian culture that held women back from fulfilling themselves other than as wives, daughters, and mothers."
At Harvard, Professor Desai established her own identity. To say the lives and careers of Professors Bhagwati and Desai have been distinguished is an understatement. Among their many accolades, Professor Bhagwati has received the Padma Vibhushan, and Professor Desai has received the Padma Bhushan, the second- and third-highest civilian awards in India, respectively. And they have been honored personally by Prime Minister Manmohan Singh and Prime Minister Narendra Modi.
In honor of his wife and with gratitude to Harvard for the immense impact the University had on her, Professor Bhagwati made a pledge to establish the Padma Desai Economics Fund. The income from the Desai endowment fund will be used first to support an annual prize for exemplary graduate student research: the Padma Desai Prize in Economic Science. In addition, the fund may be used to support graduate research in the Department of Economics: the Padma Desai Research Awards for Economics.
This pledge is the latest and largest of three gifts made to Harvard by Professors Bhagwati and Desai. In 2004, they established the Padma Desai Research Prize at the Davis Center for Russian and Eurasian Studies. And upon receiving the 2007 Thomas C. Schelling Award from Harvard Kennedy School (HKS)—bestowed annually to an individual whose "remarkable intellectual work has had a transformative impact on public policy"—Professor Bhagwati gave the prize back to HKS and matched it dollar-for-dollar for a gift for human rights studies.
"The endowment will be a permanent tribute to Padma," says Professor Bhagwati. "Even though the prize and research awards are open to all, it will be an encouragement to women for whom Padma's success serves as a role model."
" The endowment will be a permanent tribute to Padma. Even though the prize and research awards are open to all, it will be an encouragement to women for whom Padma's success serves as a role model."
—Professor Jagdish Bhagwati
One such woman is the professors' only daughter, Anuradha Bhagwati MPP '06. A former United States Marine Corps captain and company commander, she formed the nonprofit Service Women's Action Network, which has played a major role in policy reforms related to the U.S. Departments of Defense and of Veterans Affairs, including overturning the ban on women in combat.
"We are very proud of her, as she has combined the best traditions of our families in doing socially relevant work while achieving considerable distinction," says Professor Bhagwati.
---
Contact University Planned Giving to learn more about supporting University programs.