What's Your SIG? Native American Alumni of Harvard University
Q&A with NAAHU President Emily R. Van Dyke AB '03, MPH '09
June 12, 2017
The Harvard Alumni Association's more than 50 Shared Interest Groups (SIGs) bring together tens of thousands of alumni across the globe around common interests, whether it's a cultural identity, a student activity, a professional field, or something else. Whatever your passion, there's a SIG for you! To help you find your SIG, the HAA presents "What's Your SIG?"—a series of conversations with members of different SIGs about what these dynamic communities mean to them.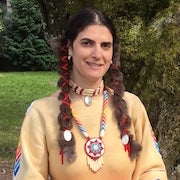 In 1665, Caleb Cheeshahteaumuck, an Aquinnah Wampanoag from Martha's Vineyard, became the first Native American to graduate from Harvard. Today his portrait hangs prominently in Annenberg Hall, a tribute to Cheeshahteaumuck and the long history of Native students at the University. For over a decade, Native American Alumni of Harvard University (NAAHU) has been building bridges among Native alumni and the small but vibrant community of Native students, faculty, and staff on campus.
NAAHU President Emily R. Van Dyke AB '03, MPH '09—who traces her roots to the Blackfoot Confederacy in Montana and Alberta, Canada—explained how the SIG is helping to give voice to the Native experience at Harvard.
What inspired you to get involved with Native American Alumni of Harvard University?
During my senior year in college, a few undergraduates revived the Native Americans at Harvard College (NAHC) group. We were able to buoy each other up because there was so much that we didn't have to explain to each other about life at Harvard as a Native student. Importantly, we were often the only students in the room who had the commitment and knowledge to honor our history—the stories of our Elders and the realities of our people—in the face of its frequent absence in academia.
When [NAAHU Founding President] Erica Scott-Pacheco AB '06 asked me to join the NAAHU Board, it seemed to be a logical and natural extension of the work in which I had participated during my college years. I had been the Harvard College representative on a committee advocating for the Harvard University Native American Program (HUNAP), which only strengthened my belief that ongoing alumni commitment to fortifying Native student support and Native voices at Harvard is essential.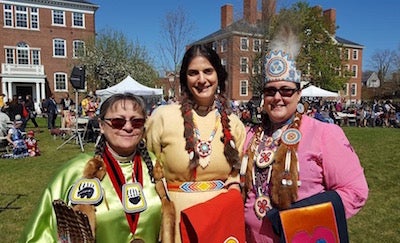 Who are your members?
We are open to all alumni, faculty, and employees of Harvard University. In particular, our members tend to be alumni who self-identify as Native/Indigenous and who were active in NAHC, HUNAP, the Harvard Native American Law Students Association (NALSA), the Native and Indigenous HSPH Alumni Network (NIHAN), Four Directions at Harvard Medical School, or other Indigenous affinity groups during their time at Harvard.
What do you enjoy most about being part of this community?
I enjoy being able to provide a forum for mutual support among alumni and to serve as a mentor for current Native students. HUNAP offered a community that felt like my home and my urban family in Cambridge. NAHC was newly revived when I graduated from the College, so when I hear recent grads speaking about NAHC adventures as if this group always existed and was always robust, it gladdens my heart. In 2003, NAHC (again led by Erica Scott-Pacheco) revived the Harvard Powwow tradition, which is still going strong.
How has it benefited you personally or professionally?
The opportunity to continue my commitment to enhancing the visibility of Indigenous current events, geopolitical realities, and history for Natives at Harvard has been a powerful experience. We are working on launching a mentorship program in which alumni around the country would have an opportunity to volunteer to serve as mentors to current undergraduate and/or graduate students. Given the small number of Native students on campus and given that there are no tenured Native faculty at Harvard College, we feel that a mentorship program will provide needed support for students as well as a fulfilling way for alumni to give back.
In addition, we plan to establish a Summer Community Service Fellowship in honor of Clarence "Duane" Meat COL '07, who was shot and killed while on a hiatus from his time at Harvard. He was an exceptional person, and we feel that supporting current students in summer service work is an appropriate way to honor his memory.
Why should alumni consider joining NAAHU?
Native/Indigenous Harvard alumni can find a place in our growing and evolving SIG. This is a chance to be part of a community of Indigenous peers who seek to ensure that Natives are supported while on campus.
Feb 8, 2012

Shiya Wang '13 knew only basic English when she left Wuhan, China, at age 15 to study piano at the acclaimed Juilliard School. Seven years later, Wang has not only overcome the language barrier, but she has become an English concentrator at Harvard College with a passion for 19th- and 20th-century American and British literature. Read More

Feb 8, 2012

Coming from a family of moderate means in small-town Ohio, Don Wilson '70 depended on financial aid to attend Harvard College. Now, after a successful career in international banking, he is returning the support. Read More

Feb 8, 2012

"Harvard took a chance in accepting us, and, through generous financial aid, gave us the opportunity to receive a broad and deep exposure to academics and the larger world," the Healeys reflect. Read More