What's Your SIG? Harvard Alumni in Tech
Q&A with Harvard Alumni in Tech Executive Director Ben Wei AB '08
May 1, 2017
The Harvard Alumni Association's more than 50 Shared Interest Groups (SIGs) bring together tens of thousands of alumni across the globe around common interests, whether it's a cultural identity, a student activity, a professional field, or something else. Whatever your passion, there's a SIG for you! To help you find your SIG, the HAA presents "What's Your SIG?"—a series of conversations with members of different SIGs about what these dynamic communities mean to them.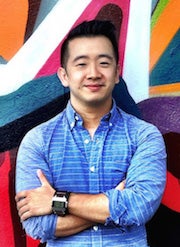 From engineers, product managers, and technologists to startup founders, corporate leaders, and venture investors, Harvard alumni are making things happen in the tech industry. Drawing on this deep well of experience and expertise, Harvard Alumni in Tech is a hub for technology innovators and entrepreneurs across fields and functions to connect with and learn from one another.
Tech entrepreneur Ben Wei AB '08, cofounder and executive director of Harvard Alumni in Tech, described how the SIG has helped him forge friendships and expand his professional network.
What inspired you to create Harvard Alumni in Tech?
I was running a nonprofit tech scholarship program for women, minorities, and immigrants from underserved neighborhoods in New York City. As part of the program, I brought in tech entrepreneurs and engineers to share their stories with our students. As I looked for speakers, I realized that there were a lot of prominent Harvard alumni working in tech, but there wasn't a community to bring everyone together. I reached out to Peter Boyce AB '13, and we put together the first Harvard Alumni in Tech event in the summer of 2013. Since then, our mission has been to use the resources of the Harvard network to empower alumni founders, executives, investors, and technologists.
Who are your members?
Our members range from seasoned executives at companies like Google, Facebook, and Apple to budding entrepreneurs who are starting to build their new ventures. Our community has alumni from each of the Schools, ranging from recent graduates to those who are celebrating their 50th Reunion. What ties everyone together is their passion for technology and a shared interest in understanding how tech continues to change the world.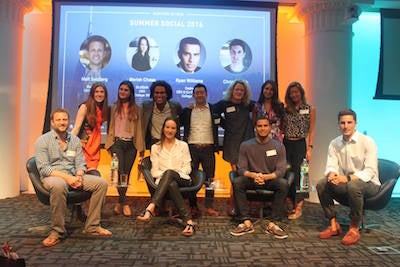 What do you enjoy most about being part of this community?
Meeting highly motivated, talented alumni who spend their days thinking about technology and its impact on the future. I've had fascinating discussions about things like the future of cybersecurity and the potential of Bitcoin, and I've heard firsthand from successful entrepreneurs about how they built their businesses.
How has it benefited you personally or professionally?
Similar to my time on campus, Harvard Alumni in Tech has brought together some of the most intelligent, driven, and impressive people that I have had the pleasure of meeting. Personally, I've learned a lot from my peers and now count many of them as close friends. Professionally, I've been able to connect with fellow alumni in my industry, stay on top of technology trends and news, and learn from fellow entrepreneurs.
Why should alumni consider joining Harvard Alumni in Tech?
We welcome all alumni who have an interest in technology, and we regularly host events to bring alumni together in their respective fields. While our events are based in New York City, you can still participate in our network and stay up to date as we launch chapters in other cities. Visit harvardintech.com to learn more about our organization and sign up for our mailing list.