What's Your SIG? Harvard Alumni in Healthcare
Q&A with Harvard Alumni in Healthcare President Keith Gross AB '83
May 8, 2017
The Harvard Alumni Association's more than 50 Shared Interest Groups (SIGs) bring together tens of thousands of alumni across the globe around common interests, whether it's a cultural identity, a student activity, a professional field, or something else. Whatever your passion, there's a SIG for you! To help you find your SIG, the HAA presents "What's Your SIG?"—a series of conversations with members of different SIGs about what these dynamic communities mean to them.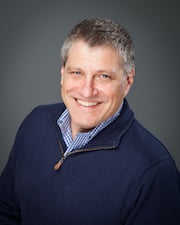 Harvard Alumni in Healthcare has a simple goal: to foster connections between Harvard alumni and affiliates with an interest in healthcare. Whether you're a graduate student on the Longwood campus, a biotech entrepreneur in Long Beach, California, or a hospital administrator in Longyan, China, this global network is here for you.
Harvard Alumni in Healthcare President Keith Gross AB '83, a dermatologist with offices throughout the West Coast, discussed how the SIG is sparking conversations among members around the world in fields from internal medicine to epidemiology to health policy.
What inspired you to create Harvard Alumni in Healthcare?
The idea was suggested by my Harvard classmate and childhood friend Barbara Natterson-Horowitz AB '83, AM '83, who recognized the need for a SIG that would connect physicians who are affiliated with Harvard. She passed the baton to her sister-in-law Cara Familian Natterson AB '92 and me, so that we could make it happen. Under our leadership, the SIG has continued to grow and develop. The need to connect is not limited to physicians, and many other alumni who are involved with or interested in healthcare have joined our group. We're thrilled that we have been able to bring so many alumni together and closer to Harvard.
Who are your members?
Our group seeks to be as inclusive as possible. To join, one must have an interest in healthcare and a Harvard degree or affiliation. Our membership base keeps growing as those with diverse interests in healthcare join and in turn motivate others to join. Our sub-chapter interest groups are also expanding, including sub-chapters in academic medicine; health services; healthcare investments; public health, policy, and law; and women's health.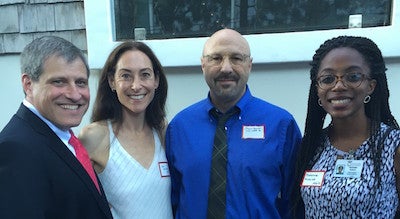 What do you enjoy most about being part of this community?
I enjoy watching the developing relationships and collaboration among our members, including the rapidly growing offering of internships, professional opportunities, and mentorships. I'm especially pleased that we're attracting members of all ages—undergraduates, recent graduates, and alumni from a wide range of classes.
How has it benefited you personally or professionally?
For me, the opportunity to make new connections with Harvard alumni and colleagues, as well as to reconnect with many of my Harvard classmates, is a tremendous benefit. The SIG brings together this diverse group of professionals and academics who may not otherwise be connected, and I'm excited about all the potential synergies that can be realized from that.
Why should alumni consider joining Harvard Alumni in Healthcare?
We offer unique opportunities for meaningful interactions with fellow Harvard alumni who share common interests in healthcare. Alumni who join our group can simply enjoy our offerings, or they can step up into the many leadership roles that are available.