The Innovators' Practice
Thinking Outside the Square
January 30, 2013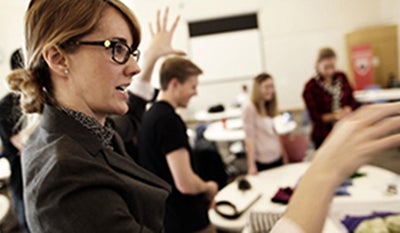 It's one thing to have a great idea. It's another to get that idea off the ground and measure its impact on the world. A tough lesson for budding entrepreneurs, perhaps; it is just one of the many issues students tackle in Beth Altringer's ES21 course, The Innovators' Practice.
Altringer, a visiting lecturer in the School of Engineering and Applied Sciences (SEAS), has studied innovation for years in diverse settings. She even wrote her doctoral dissertation on companies that help other firms to innovate. She is now bringing her experience to Harvard's budding enterpreneurs.
"The challenge of ES21," explains Altringer, "is for students to design something that appeals to them personally, that potentially improves peoples' lives and has real-world, measurable impact."
Drawing on her work with organizations like IDEO, J. Walter Thompson, and Puma, Altringer designs a classroom that supports innovation. To create this learning experience, she casts her own role less as a traditional professor and more of an incubator with a dash of a supportive mentor.
Students spend the first week or so discussing what they're passionate about and what issues motivate them. They then pair off and spend several weeks "in the wild," studying human behavior. From there, they begin to identify design opportunities, prototype promising concepts, and figure out how to measure impact. Each of the groups then presents its "big idea." This year's crop of projects includes a guerilla gardening effort that monitors air quality, headphones that adjust your playlist to your hear rate, an app that helps you make progress on personal creative goals in your downtime, and a program that uses geotracking to create a location-based soundtrack for your iPod.
Described by the Huffington Post as "Harvard's real-world obstacle course for practicing innovation," ES21 has certainly made a splash in only two years. Ideas developed in the course have already found life beyond the classroom. Two students in last year's group developed Politoscape, a political news aggregator designed to expose bias. The founders' goal is to launch out of beta around March or April.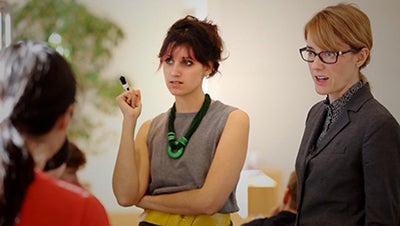 Students in this year's class are already formulating plans to seek funding and support to develop their ideas further. Whether or not students find their seed money, the course has been a transformative experience. Take Kara Kubarych '13, a sociology concentrator in the College, who, along with Jeff Fischer, Parsa Kamali, and Josh Shih, designed WearHouse as a way to share clothes from people's closets like one would books from a library. "The training I take away from ES21 is applicable for any pursuit I have after the class," Kubarych said.
WearHouse is one of many projects that debuted at the end of the 2012 semester. Check out the full spectrum of projects and hear what innovation means to Professor Altringer and one of her students in the class.
---
Micah Stone '13: "Ideas to Reality"
Stone is a concentrator in economics, with a secondary in psychology.
Project: Fitness DJ is a pair of headphones that have a heart rate sensor inside of them. This sensor works with an app on your phone/music player to change your music to increase or decrease your heart rate.
Project Team: Stone, Alyx Daly, Anne Liu, Elizabeth Lenczowski
What did you learn about Innovation?
Innovation is easy, but creation is hard. Coming up with new and creative ideas was pretty simple, but turning these ideas into a reality is a difficult and complicated process. There are all sorts of issues with feasibility, market demand, and building the product exactly how you imagine it. I certainly gained a whole new level of respect for startups and small companies that take on a ton of risk but try to overcome these issues.
What did you most enjoy about ES21?
This class has been by far one of the most real-world classes I've taken at Harvard. The fact that there was a hands-on component, in addition to the classroom learning, made it fun as well as educational. I felt like I was actually creating something and also seeing if this is something I might be interested in pursuing as a career.
---
Read more about Professor Altringer, the class, her group, and student ideas that have emerged from the class (both those in development and those seeking partners). For ways to support innovation like this at Harvard, visit Ways to Give.
Photos by Marlon Kuzmick and the Bok Center Multimedia team.