Sustaining Innovation
Stephen Onesti '82, MD '86, P'20 and Louise Gabrielle P'20
January 29, 2018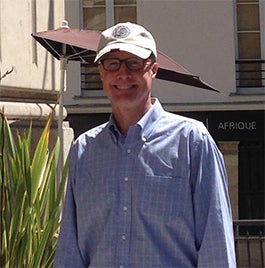 "Like many other alumni, we want to make sure that Harvard can provide the best educational opportunities for its undergraduates," says Stephen Onesti '82, MD '86, P'20.
He and his wife, Louise Gabrielle, hope gifts like theirs help to sustain the kind of innovative curriculum that is key to the College's excellence. "I am amazed by what's now available to Harvard students," says Stephen, listing the Harvard John A. Paulson School of Engineering and Applied Sciences and the new concentration in Theater, Dance & Media as examples.
The couple also hopes to support the recruitment of faculty who are the most creative and transformative in their fields. "Harvard needs the resources to be able to bring in the absolute top scholars and support their programs," Stephen says. He appreciates how important faculty-student connections are, having seen the joy his father had in teaching medical students and residents as a Harvard Medical School faculty member for more than 50 years. In fact, the couple dedicated their gift to recognize Silvio Onesti, MD, who passed away this March.
Though Harvard has been a part of the Onesti family long before his son Christopher became a College freshman, Stephen finds himself seeing the College with fresh eyes. "It's a lot of fun for me to watch him go through it," he says. "We are very happy to be part of the many alumni contributing to the growth of the school."