A Step Ahead: Soozin White
Soozin White on why she chose to support Harvard—for its preeminence in glaucoma research: "In my opinion, there is really no contest."
June 12, 2017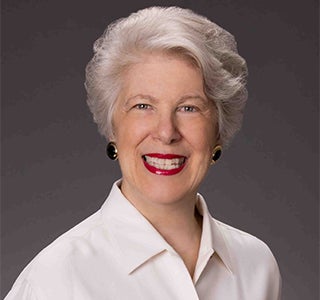 Soozin White has always been one step ahead of the game. A native of the London suburb of Esher, White was one of the founding employees of Digital Equipment Corporation—the first mini-computer company in the world—where she ran a global line of business in 110 countries. After nearly 20 years traveling the world at Digital, she retired early and started a second career on Wall Street, driven by her own intrigue about finance. But in 2002, she experienced something she couldn't predict: she was diagnosed with an aggressive form of glaucoma that caused a rapid decline in her vision.
"The World Health Organization has stated that 82 percent of blind people are over 50 years of age, and glaucoma is one of the leading causes of this blindness," says White, who became all too familiar with these statistics because of her diagnosis at a relatively young age.
For all the success she enjoyed in her professional life, White has had difficulty in treating the disease. Seven combinations of eye drops caused lasting, damaging side effects. And she visited specialists across the United States who performed a host of minimally invasive procedures, implants and, finally, a trabeculectomy to lower the pressure inside her eyes.
While the procedures have stabilized her condition, White realizes their effectiveness is only short-term. It has accelerated her desire to find more permanent solutions for herself and others. To that end, she established the Soozin White Research Fund at Harvard Medical School through a deferred gift annuity. Her gift will make resources available to fuel promising discoveries in neurobiology or stem cell and regenerative biology, with a preference for research related to the underlying causes of glaucoma and related conditions.
"Harvard has a vast breadth and depth of research sharing that others do not have."
—Soozin White
"I was quite familiar with annuities from my time on Wall Street. Once I'd done my research, I reached out to Harvard to find out how I could offer some gift annuities to the Medical School for this kind of research," White says. "I chose a deferred gift annuity because I didn't need the income right away. I put it off to a time when I might be completely without vision and therefore in need of additional assistance."
When choosing where to make her gift, White, who had no prior connection to the University, compared Harvard against other institutions that are doing formidable research on glaucoma. It was the cross-disciplinary knowledge sharing at Harvard, as well as the University's affiliations with hospitals, international partners, nonprofit institutions, and foundations that made the difference. Simply put, White believes that Harvard is a step ahead of the competition in the race to cure glaucoma.
"Harvard has a vast breadth and depth of research sharing that others do not have," she says. "In my opinion, there is really no contest."
---
Explore more stories from Gift Strategies and contact University Planned Giving to learn more about supporting University programs.