Lynn Riddiford '58 and James Truman PhD '70
February 11, 2014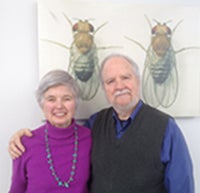 Harvard brought together Lynn Riddiford '58 and James Truman PhD '70, once professor and graduate student, now long-married researchers who believe fervently in higher education.
These days, Riddiford and Truman both work at Janelia Farm, a state-of-the-art biomedical research center that is part of the Howard Hughes Medical Institute. Both longtime teachers at the University of Washington, they retired from teaching six years ago and moved to Virginia to devote themselves to full-time research.
"We both believe in the value of higher education," says Riddiford, who came to Radcliffe College from a midwestern farm and celebrated her 55th reunion last year. "My parents couldn't afford to send me to college, so when applying, I specifically looked for scholarships," she says. "I was concerned because I had no foreign language credits."
"But Radcliffe was willing to take me, give me a full tuition scholarship, and let me take two languages starting when I arrived. That's one reason I am so pleased with what Drew Faust has done with financial aid."
Truman received a bachelor of science from Notre Dame, and an AM in 1969 and a PhD in 1970 from Harvard in biology. "I originally came to Harvard in 1967 to study insects with Carroll Williams," he says. "But I was assigned to a new assistant professor named Lynn Riddiford, and, well, things just worked out."
The couple spent the first three years of their married life as the first caretakers of the Concord Field Station in Bedford, Massachusetts. "It was a great place to live," says Truman. "Not only was it situated in seventy-six acres of woodland, but the director worked on the physiology of various mammals, including big cats, chimpanzees, kangaroos, and baboons. It was nice to hear the cheetahs purr at night!"
Riddiford lived in Cabot Hall (before it was South House and now Cabot House) and graduated with a degree in biochemical sciences, rare at that time. She received a PhD in biology from Cornell University in 1961. "I always wanted to do research," she says. "In those days, professors didn't want freshman and sophomores in their labs." She was persistent, returning to Harvard as a postdoc and eventually becoming an assistant professor, the first woman in the biology department.
"I couldn't even go into the main dining room of the Faculty Club or Lamont Library," she says. "But by 1969, there were nine women in the Faculty of Arts and Sciences, with only the one in the Radcliffe chair tenured. I served on the Committee on the Status of Women, was promoted to associate professor, and had many great experiences. Then in 1973, we moved to the University of Washington." She spent 34 years teaching biology there, specializing in endocrinology with a research interest in hormones and development and behavior in the tobacco hornworm.
Riddiford has a special love for Commencement and has attended her 10th, 25th, 40th, and 50th reunions.
"Harvard graduations are wonderful—all that pomp and spectacle," she says. Riddiford previously served as a committee member for her 45th reunion, and serves as a gift chair for her class, which is how she first learned about the revocable bequest intention, leading to the gift she and Truman recently made. Their bequest will support undergraduate financial aid, the Graduate School of Arts and Sciences, and the Radcliffe Institute for Advanced Study.
"Higher education is the great equalizer and should be available to everyone who has the ability," Truman says. "We spent almost 40 years teaching at the university level and have always appreciated the value of education."
Truman's current interests include neural stem cell research and how encoding works in different fruit fly populations. "We just had a paper published in the Proceedings of the National Academy of Sciences," says Riddiford. "We are quite a team! We've seen what education can do."