Pioneer Alumna Reflects on the Moment That Changed Harvard's Houses
Lorraine Chickering AB '72, MBA '82
November 25, 2018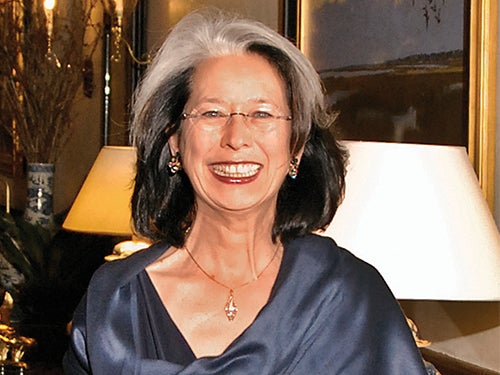 With all of the conveniences available to today's college students—from online courses and digital library catalogs to ride-sharing services and more— it's hard to imagine a time when such things weren't as common, especially for women at Harvard. The memories of that bygone era are vivid for Lorraine Chickering AB '72, MBA '82.
"When I arrived at Harvard in 1968, all the women lived in the Radcliffe Quad," she recalls. "I was active— acting, singing, and going to tutorials at night. Yet, no matter what the weather was, I had to get there on foot or by bicycle."
To make matters more difficult, Radcliffe women were still banned from certain areas of the Harvard campus, including the Indoor Athletic Building (now the Malkin Athletic Center) and Lamont Library, among others.
"In 1965, Radcliffe opened a beautiful new library, called Hilles, but most professors didn't put materials on reserve at both Lamont and Hilles," Chickering says. "So I would have to stand outside Lamont, wait for a nice guy, and ask him to go get me the reserve articles. Then I had to take the articles to Widener to read them and drop them in the book return."
That all changed in January 1970, when Chickering was among the first group of 50 women who relocated to Winthrop House. Her room had a view of the river and even a fireplace. The House had a library when Chickering needed a quiet place to study, and was situated within walking distance of almost all of her activities. She joined the in-house drama club; attended speaker series; and enjoyed the camaraderie of her faculty dean, senior tutor, and the other students and young faculty members with whom she lived and dined.
"Moving to Winthrop allowed me to have a much fuller experience, a much more convenient experience, and it grew to be much more supportive," she says. "It really changed the tenor of my remaining two and a half years at the College and how I felt about Harvard." To mark the occasion of her Winthrop move almost 50 years later, Chickering made a gift to Harvard to support the Faculty of Arts and Sciences House Renewal Fund. The fund supports costs associated with planning, constructing, and executing the renewal of Harvard's House system. In recognition of her commitment, Harvard established the Lorraine E. Chickering Music Room in Winthrop House.
"I was lucky to be a part of a really important movement. My hope is to mark one historical event that changed what it meant to be an undergraduate at Harvard."
—Lorraine Chickering AB '72, MBA '82
Although the room was named for her, Chickering has dedicated it to "the first Cohort of Winthrop Women."
"I was invited to a Dunster House renewal event and I was blown away by how well it was done, how it retained the character of the House while giving it all the modern technology," Chickering says. "So when the Winthrop opportunity came up, I said, 'You know, I could do something important.' So I did. And I'm thrilled. It's one of the best decisions I've ever made."
Moving to Winthrop was monumental for Chickering, but she wouldn't have been at Harvard in the first place if it wasn't for financial aid. Chickering grew up in the milltown of Danbury, Connecticut, as the youngest of three children. Her father finished his sophomore year of high school, and her mother never finished the sixth grade. In a family of 48 first cousins, only seven earned college degrees. Because of the way financial aid was structured at the time, women took loans first and then received scholarships. This arrangement caused Chickering to work 25 to 30 hours per week the entire time she was at Harvard.
"The portion of tuition my family was supposed to contribute, they couldn't afford, so I had to pay it," she recalls. "We had the Depression mentality that if you couldn't buy something with cash, then you couldn't buy it."
Chickering and her classmates were the first to receive their diplomas at a ceremony in their House, and 10 years to the day later, she graduated from Harvard Business School. In her professional career, she worked at COMSAT Inc. and Bell Atlantic Corporation—which later became Verizon—as the third female officer of the corporation and president of two business units that generated $1 billion in revenue.
An actress at Harvard, Chickering became a self-described "theater addict." She also developed an interest in photography. She began by shooting when she traveled, but in the past 20 years she has traveled just to shoot landscapes, wildlife, architecture, ruins, and more.
Chickering hopes to give back in a way that would tie her closer to this generation. With the help of current undergraduates, she has begun researching the names of all 50 women who relocated to Winthrop in order to create an oral history of the seminal event.
"There is a series of large photographs in the House taken the day we moved in. If you ask the women who are living there now, they have no idea how they got there," she says. "I was lucky to be a part of a really important movement. My hope is to mark one historical event that changed what it meant to be an undergraduate at Harvard."
---
Contact University Planned Giving to learn more about supporting University programs.