New Views
Daniel Aaron Simkowitz '87, P'19 and Mari Nakachi '87, P'19
November 23, 2016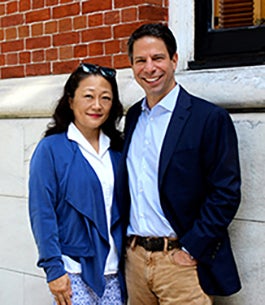 Daniel Aaron Simkowitz '87, P'19 and Mari Nakachi '87, P'19 know Harvard well. They met as undergraduates living in Eliot House and have been dedicated volunteers since they graduated. Now that their daughter Rena '19 is a student, the couple believes they have been given an opportunity to see the College anew through their roles as volunteers on the Parents Committee.
"We've been volunteers for Harvard for 30 years," says Nakachi. She and her husband, who live in New York City, have served as vice chairs for their Reunion Gift Committee. Nakachi volunteers as an alumna interviewer, and Simkowitz, a former student athlete, helps to mentor current Harvard swimmers.
They felt it was a natural next step to join the Parents Committee as regional vice chairs. Within months of their daughter's first year, the couple realized they were seeing their alma mater through another lens.
"Serving on the Parents Committee has given us the ability to know what's happening on campus on a day-to-day basis and in our daughter's life. It's given us a different perspective on Harvard since our own days there," says Simkowitz.
This includes an inside look at College life today, both inside and beyond the classroom. "We've been able to meet phenomenal faculty and have gotten to know faculty deans in the Houses. We've seen how committed they are to the undergraduate experience," says Nakachi.
Though they both remember their own days at Harvard fondly, they've been particularly struck by new innovations in teaching and the abundance of opportunities now available to students.
"Harvard really makes great efforts to enhance close connections between faculty and students," says Simkowitz. "My daughter has a professor who decided to forego the large lecture approach and restructured the class as a small, 12-person seminar. The kids had a great experience."
Their daughter also had the chance to travel to Japan this summer for an internship at the Wall Street Journal. "These are just some of the opportunities that Harvard has given her," shares Nakachi.
To further support the breadth of student experiences at Harvard, the couple established a scholarship in honor of their last Reunion and have given a generous gift to House Renewal to name a common space in Dunster House, which reopened to students in fall 2015.
"The Houses are where the closest friends meet," says Nakachi. "And we wanted to support the common areas, where so many of the kids get together and share their experiences."
"The Houses are the places that shape great leaders and great friends," says Simkowitz. "We've been able to see how students use Dunster House and it's really powerful. We're excited to be a part of it."