Putting the "New" in Old Quincy
March 30, 2012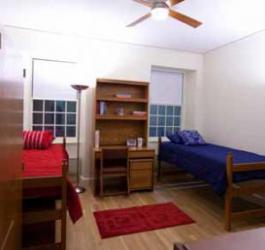 After several years of planning focused on everything from bathroom tile to the meaning of House life, Quincy House Co-Masters Lee and Deborah Gehrke can't wait for the transformation of Old Quincy to start in June. Renovations will kick off a long-term renewal of Harvard's indispensable House system.
"This project will provide much-needed physical upgrades to Old Quincy, but we hope it will also further enhance student life in the entire House," says Lee Gehrke, professor of microbiology and immunobiology at Harvard Medical School.
The overhaul will test design and construction approaches for student living spaces that eventually can be applied system-wide. A second pilot project, expected to start in June 2013, will modernize McKinlock Hall, a section of Leverett House that (unlike Old Quincy) has a dining hall and master's residence.
When Old Quincy reopens in fall 2013, its reconfigured floor plan will offer undergraduates more privacy, additional interactions with resident tutors, and flexible space for meetings and social events. It will boast new windows and insulation and be accessible to people in wheelchairs. Bathrooms will be relocated to hallways so students won't have to cut through one another's rooms to reach them. And a contemporary classroom on the lower level will further integrate living and learning—the hallmark of Harvard Houses.
"We hope the renovation will unite Old and New Quincy much better because Old Quincy [until now occupied mostly by sophomores] will be an attractive option for everyone," says Deborah Gehrke, who has worked to give students an ongoing voice in the planning process. She and others recently toured a full-scale model of several rooms being planned. "They captured the real feel of Old Quincy," she says. "It's beautiful."
During the 15-month project, the building's roughly 190 undergraduates and tutors will live in three nearby (and desirable) apartment buildings, and efforts are under way to help these "swing space" residents feel connected to the community.
Thinking ahead about the upgrade, Senan Ebrahim '12 comments, "In twenty years, I can come back and say, 'I was part of the first renovation.' To help make sure the House framework is going to stay strong for the next century is really rewarding."