Mike Vranos '83
I Choose Harvard...
June 18, 2012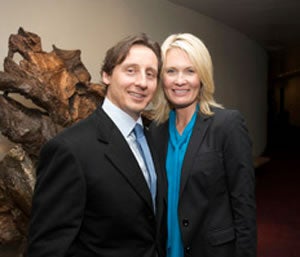 Mike Vranos and his wife, Anna-Karin, had been thinking for some time about establishing a research fellowship at Harvard.
"My wife and I have long believed that stem cell research and regenerative biology is an important area of research," says Vranos. "We met with Professor Doug Melton, faculty co-director of stem cell science at Harvard, several times and became interested in his work. A dinner with him and some students at Eliot House really put us 'over the top.' The experience brought me back to my Harvard days."
Melton, a renowned scientist who has played a seminal role in the exponential growth of the field of stem cell science, serves as Master of Eliot House, where Vranos lived as an undergraduate.
"I was one of the few math concentrators living in Eliot House, but I found acceptance and made lifelong friends," he says.
After graduating magna cum laude, Vranos went on to pursue a PhD in math and then ventured to Wall Street. He received a trial-by-fire learning experience in capital markets at Kidder Peabody but quickly rose to the position of senior managing director, earning praise as "one of the best bond traders on Wall Street" from Fortune magazine.
Throughout his career in finance, however, Vranos has always taken an interest in the life sciences and, specifically, stem cell research.
"I believe there will be a renaissance in the life sciences over the next decade, similar to what happened in the technology and physical sciences sector—and I think stem cell research will lead the way," he says.
To assist the next generation of scholars, the Vranoses have generously established over the years the Michael and Anna Vranos Graduate Fellowship Fund in the Life Sciences, the Vranos Family Junior Faculty Development Fund for Stem Cell and Regenerative Biology, and the Vranos Family Graduate Research Fellowship in Developmental and Regenerative Biology.
"Most of our giving has been directed to the life sciences, because I believe this area of research will have the most direct impact on helping humanity in the future, possibly more so than other physical sciences," says Vranos.
He and his wife established these funds in honor of his 20th, 25th, and future 30th reunions. He has also offered his time and support to Harvard as a member of the FAS Task Force on Balanced Philanthropy, as chair of the Class of 1983 Gift Committee, as af member of the New York Major Gifts Committee, and as chair of the Class of 1983's 20th and 25th reunions.
As he reflects upon his Harvard days, Vranos remarks: "What I remember most is the diversity and strength of the student body. My best experiences revolved around interacting with and learning from my peers. Harvard is a fantastic institution, and its graduates go on to achieve great things in the world. As alumni, we need to continue to support them."
Jun 20, 2012

Byron Wien '54, MBA '56 hadn't thought about Harvard until he was sent to the principal's office. There, he had a conversation that changed his life. Read More

Jun 15, 2012

Hands-on research opportunities are bringing the sciences to life for Harvard undergraduates. Read More