Maura Healey Is Always at Home at Harvard
May 31, 2017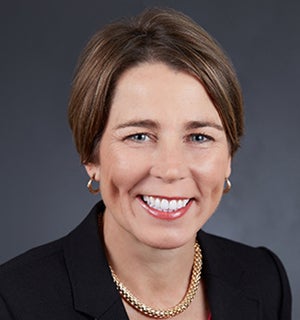 Maura Healey '92
Kirkland House
Government Concentrator
It's no surprise Maura Healey '92, a woman known as the "people's lawyer," was chosen to represent alumni as chief marshal for Harvard's 366th Commencement. Having once led as co-captain of the basketball team, she now leads as attorney general of Massachusetts. Her years at Harvard provided the foundation for everything that followed, she says. She shares why she thinks everyone should get involved in their communities and serve others—now more than ever—and why Harvard graduates are especially equipped to meet this challenge.
Why did you decide to come to Harvard?
I grew up in a small town in New Hampshire and went to a regional public high school. I loved work in the classroom and had terrific athletic experiences, so I wanted to continue to pursue intellectual interests and to compete at a Division 1 level. I came because of the education, the incredibly diverse student body in the College and the faculty, and all that the school had to offer.
While at Harvard, you lived in Kirkland House and were a government concentrator. What were some of your favorite memories?
Living in the Yard my freshman year is something I'll always remember. Essentially, you show up on campus and nobody knows one another, and you are put with the most amazingly diverse group of people. You learn and you live there together.
Other great experiences: the "Justice" lectures in Sanders with Michael Sandel. Going to Institute of Politics events. Watching my teammates and friends compete. Late nights at the Grille.
You were co-captain of the women's basketball team and went on to play professionally in Austria. What did you learn playing basketball at Harvard?
I was fortunate to be coached by Kathy Delaney-Smith, and my college experience was absolutely invaluable—the foundation for everything that has followed in terms of my career. You learn hard work, work ethic, teamwork, discipline, what it takes to succeed, and what to learn from failure. I formed some great friendships. I always love to get back to a game to watch current students and reconnect with teammates or those who are just part of the broader network.
You've described yourself as the "people's lawyer." Can you describe how that motivates you on a day-to-day basis?
Serving as attorney general and standing up for our residents as the people's lawyer every day is the greatest honor of my life. I am passionate about the work of the office and trying to make a difference on issues affecting people's lives—from health care and economic security, to climate change and civil rights, to gun violence prevention and opioid addiction. I love my job, and having the opportunity to take action to help people is what motivates me every day.
You encourage people to become more politically involved and to speak up. What does that mean to you in the current political climate?
It is more important than ever for people to be engaged and to look for opportunities to get involved. I have been heartened to see more people looking to be part of actions to move our country forward.
We need more people, especially women, to run for office. We need to keep pushing to change the culture of our politics so that one day our leadership will truly reflect the communities we serve. We also need to get back to leading with values and principles, and a commitment to working together as Americans for the common good.
You regularly return to Harvard to go to basketball games, events, and for your Reunions. What brings you back?
My Harvard experiences provided the foundation for so much that has followed in my life, so I love to come back whenever I can. I always feel at home at Harvard and am grateful for everything that Harvard gave to me, what it exposed me to, and how it challenged me.
Reunions are a great opportunity to spend time with friends and roommates, but, as importantly, also a chance to connect with really special people that you didn't know well when you were in school. I continue to be inspired by my classmates.
I think now more than ever I appreciate what Harvard has given to me and made possible for me and so many of my classmates. I also believe that with the benefit and the experience of a Harvard education, even more should and can be expected of us. There are many challenges we face out there in the world, and we all have the obligation to use our education to contribute in meaningful ways to our communities.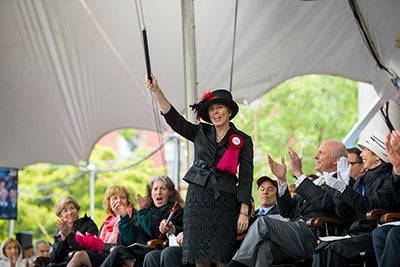 What was it like to be chosen as chief marshal?
It is an honor to be selected and to join my classmates and fellow alumni. We're all connected through this Harvard network, and I know that any one of my classmates could have more than ably stood in that place.
What kind of advice would you give to graduating seniors?
I think: pay attention. Pay attention to yourself and those around you. We live in a really fast-paced world with a lot happening. With the benefit of a little time, I really see the importance of paying attention to others, following what's in your heart, and finding ways to serve and give to others. I think if you look to do that, you're going to end up happier and more fulfilled. We all have an opportunity to make a difference every day in the life of another person. Don't miss that.