Making Science Stick
Hands-On Learning Opportunities Help Harvard Students Engage and Grow
June 15, 2012
As seen in Harvard Magazine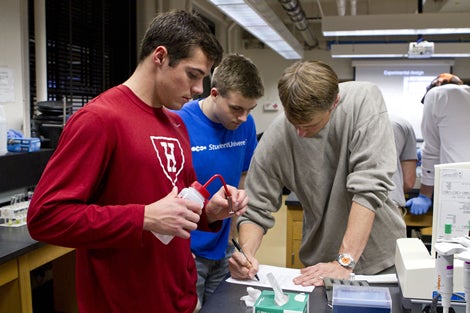 From aboard a small research vessel in the Gulf of Maine last summer, Annabel Beichman '12 helped scoop up golf ball–sized lumps floating on the water. The catch of the day? No—output from North Atlantic right whales!
The team tested the ammonium-rich feces to understand how these rare mammals may enrich the gulf's ecosystem by cycling nitrogen from the deep, where they feed, to the surface when they come up to breathe and defecate. Back on campus, Beichman extracted and analyzed DNA from the samples to identify the bacteria living in the whales' guts. Working with faculty from two Harvard labs, she turned her project into a senior thesis and then a prospective journal paper. The experience exposed her to the adventure of fieldwork—not to mention the stench of right whale poop!
"It has a truly terrible smell that clings to your clothes and hair," says Beichman, an organismic and evolutionary biology concentrator from Pasadena, Calif., and Mather House. "But it was thrilling to see a scientific project to completion and prepare it for publication. Both in the field and lab, I felt profound affirmation of my desire to work with endangered marine species. Every day that we saw the right whales was exhilarating."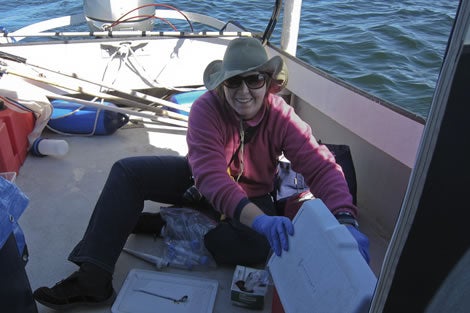 Beichman is one of many undergraduates who've had the chance to pursue original scientific research at Harvard. In the life sciences, for example, more than three-quarters of this year's graduating concentrators conducted research with a faculty member during their College years.
"One of the most important goals of a liberal arts education today is to give students the personal experience of discovery," says Michael D. Smith, dean of the Faculty of Arts and Sciences and John H. Finley, Jr. Professor of Engineering and Applied Sciences.
"This takes many forms across the disciplines. Our key innovation in science has been in providing hands-on educational experiences—including research opportunities throughout the year and summer, both on campus and during study abroad."—Michael D. Smith
Blurring the boundaries
Active learning is not only fun, it's been shown to be effective, according to Robert Lue, professor of the practice of molecular and cellular biology and director of life sciences education at Harvard.
"Having students engage directly in their own learning process—actually apply scientific concepts and facts to current problems—significantly increases their ability to retain what they have learned," explains Lue. "As with music and the visual arts, science requires practice and application."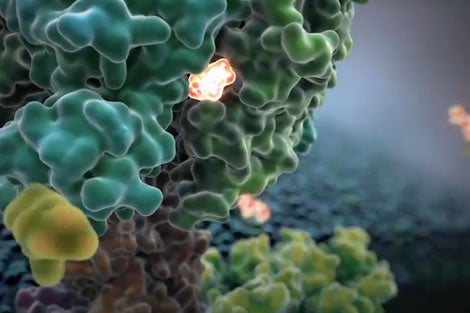 Although legendary Harvard lectures still abound, many faculty have found creative ways to involve undergraduates more deeply in the scholarly process and bring science to life. Strategies include online discussion boards, where students pose questions about reading assignments before class; clickers that students press to provide feedback during lectures; and animations that send viewers flying virtually through a cell.
Harvard also offers lab-based courses that connect undergraduates with faculty research, along with state-of-the-art teaching laboratories that reflect the collaborative and interdisciplinary nature of 21st century science. Students even have the opportunity to learn by teaching local children about science through hands-on activities and mentoring.
These efforts are helping blur the boundaries between research and teaching, shifting the focus from conveying what scientists know to how they know it. This has become essential with the explosion of scientific knowledge.
"In the past, the classroom was more about delivering facts we had assembled through research," says Lue, who is directing a summer workshop to help 40 educators from 17 colleges and universities in the Northeast transform their science classrooms.
"But the pile of facts kept getting higher, and scientists spent decades trying to figure out how to cram them into separate discipline-based courses. Now we realize that the connections between fields are profoundly important to modeling how life works."—Robert Lue
To that end, Life Sciences revamped its two-semester introduction for freshmen several years ago. The courses now integrate chemistry, cellular and molecular biology, genetics, and evolution in addressing real-world questions, such as: How does a pathogen like HIV hijack the human body?
Although the faculty shaping the new structure made sure it worked for budding scientists and pre-medical students, they also wanted to appeal to "future poets, politicians, anybody," Lue recalls. "We were the first school in the country to redo the entire foundation."
Lue and colleagues expect to publish results this fall showing that the curricular change has produced substantial learning gains. And other FAS entities, including the Physical Sciences, the School of Engineering and Applied Sciences, and departments across the humanities and social sciences, have embraced interdisciplinary approaches in their teaching—"so the idea continues to permeate," Lue says.
"My own approach"
In addition to technical skills, the undergraduates in Rachelle Gaudet's structural biology lab learn firsthand about the scientific life.
"They see that research can be repetitive, that it's hard to get things to work right, and that doing research is not a solitary adventure," says Gaudet, a professor of molecular and cellular biology. "You're part of a community in a lab, and you get a lot out of joining conversations and asking colleagues for feedback on your data."
Robert Powers '14, a chemical and physical biology concentrator from Belmont, Mass., and Kirkland House, agrees. He has been training in Gaudet's lab since January 2011, studying two proteins found in the inner ear.
"Working here has taught me how to be creative and think quickly on my feet to overcome obstacles. My first semester was spent trying to obtain protein for my experiments. I ran into a problem and had to systematically go through and change elements of my protocols until I solved it. Dr. Gaudet is always there to help, but she challenges me to formulate my own approach."—Robert Powers '14
He eventually synthesized the proteins and hopes to crystallize them and examine their molecular structure.
Powers, who is also collaborating with postdoctoral fellow Marcos Sotomayor and Harvard Medical School Professor of Neurobiology David Corey, is continuing this summer as part of the Harvard College Program for Research in Science and Engineering (PRISE), an unusual 10-week residential community of student scientists. He also has support from a Herchel Smith Harvard Summer Undergraduate Research Fellowship.
The recently graduated Beichman intends to build on her undergraduate research experience, which included two years in the lab of Organismic and Evolutionary Biology Professor Scott Edwards '86 examining song-learning genes in zebra finches. The right whale project "was my first real foray into fieldwork, and I learned that I absolutely love it," says Beichman, who fulfilled a secondary field in Celtic languages and literatures. "My postgraduate plans revolve around boats and marine mammals. Next January and February, I'll be in Western Australia studying the population dynamics of dolphins. I can't wait."
Choose Harvard today with a gift to the Harvard College Fund.
Jun 20, 2012

Byron Wien '54, MBA '56 hadn't thought about Harvard until he was sent to the principal's office. There, he had a conversation that changed his life. Read More

Jun 18, 2012

Inspired by stem cell research and Professor Doug Melton, Mike Vranos and his wife Anna-Karin establish a research fellowship at Harvard. Read More