Making the Magic Happen
The Dean's Leadership Fund
February 26, 2014
New Opportunities, New Intellectual Frontiers
The Dean's Leadership Fund gives scholars at the Faculty of Arts and Sciences (FAS) the license to experiment, collaborate, and solve problems in creative ways. In short, it fuels innovation and discovery.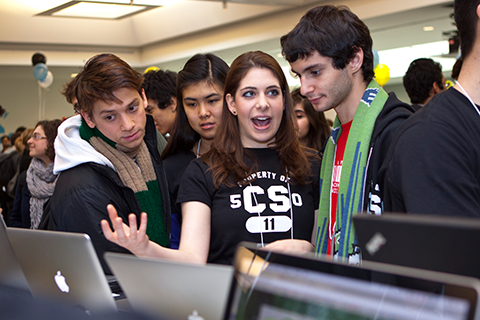 One important example of the power of flexible funding at Harvard is the expanding world of big data. Across campus, faculty and students are working to extract meaning from the explosion of digital information now at our fingertips. Evidence can be found in the growing number of data-related courses, research projects, and software tools being offered and developed, including a new master's degree program in computational science and engineering.
Also known as data science, big data has altered how we communicate, influencing business, politics, health, law, sports, and just about every other aspect of daily life. Big data's value lies in the ability to capture, preserve, and analyze this trove of information, according to Gary King, Albert J. Weatherhead III University Professor and director of Harvard's Institute for Quantitative Social Science (IQSS).
This University-wide center, based in the FAS, serves as a hub for big data studies by providing research programs, technology tools, and a dynamic intellectual community.
IQSS is able to lead the way in big data research and to help scholars address pressing issues in contemporary society because of support from the Dean's Leadership Fund. These seed funds nurture new ideas that, if successful, can be further developed. To sustain the center in its future endeavors, The Harvard Campaign for Arts and Sciences will seek to endow IQSS. Advances in scholarship are made possible because Harvard's leaders have the leverage to invest discretionary resources in revolutionary ideas.
"The ability to be flexible makes the magic happen," says King, who is among many at Harvard tapping big data to answer important questions on Earth and in space.
Gary King: Scholar Without Walls
While testing some new big data software, political scientist Gary King and two graduate students made some startling discoveries about censorship in China. The team figured out how to download Chinese language social media posts before the government could block them. Then, with support from the Dean's Leadership Fund, they applied reverse engineering and concluded that the government allows even vitriolic criticism of China but tries to prevent groups from gathering. "We've learned amazing, surprising things," King says.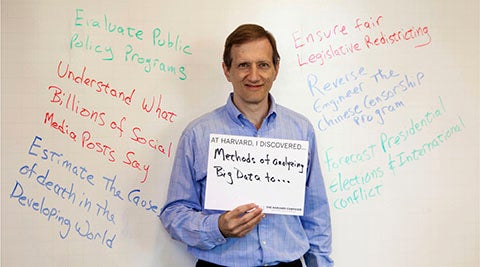 This is just one of the projects he leads at IQSS, a collaborative research community.
An innovator in statistical theory and practice, King has developed methods and software used throughout academia, government, consulting, and private industry.
A historic restructuring is taking place in the social sciences, observes King, who joined the FAS in 1987. The field today involves more collaboration, data, and focus on addressing society's problems.
"Science is about the community of scholars competing and cooperating in pursuit of the same goals," says King. "If you solve a big data problem in one field, it can have an enormous ripple effect."
King trains his empirical eye on an impressive range of topics in social science research: legislative redistricting, health care in Mexico, causes of international conflict, how surveys work.
"If you solve a big data problem in one field, it can have an enormous ripple effect."

— Gary King, Albert J. Weatherhead III University Professor

His recent projects include inventing statistical tools to estimate the causes of death worldwide, forecast the solvency of the Social Security system, and—using computer-assisted reading technology developed with his students—analyze what billions of people are saying online, in speeches, and through government press releases.
"I want to know when something's right or not," he says. "If you make a claim, you need to ask yourself, 'How would I know if I were wrong?' and then go collect that evidence."
Alyssa Goodman: Astronomer on a Mission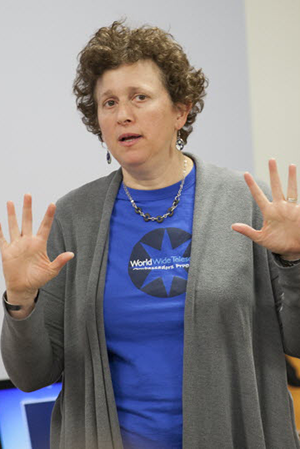 When professor of astronomy Alyssa A. Goodman began teaching her undergraduate class on data visualization a decade ago, she had to explain what the term meant. These days, her students already know.
That's satisfying to Goodman, who has long been at the forefront of digital innovation at Harvard, including finding clever and potent ways to manage big data to advance scientific knowledge and improve our world.
"A lot of what we're doing is trying to figure out how to connect different streams of information," says Goodman, a faculty member since 1992. Her research focuses on how galactic gas arranges itself to form new stars, a process that takes millions of years and involves large statistical samples of observations.
Driven by a desire to expand access to scientific data, Goodman teamed up with IQSS two years ago to launch the Astronomy Dataverse—a web application for publishing, analyzing, and preserving research information. It is part of the Dataverse Network, the University's official data-sharing solution and a major initiative of IQSS.
Collaborations like this, between the social sciences and astronomy, can grow because of flexible support from the Dean's Leadership Fund. Once these initiatives find early success, Harvard then seeks to identify long-term funding to develop new ventures more fully.
The Astronomy Dataverse grew out of the Seamless Astronomy Group Goodman leads at the Harvard-Smithsonian Center for Astrophysics. One of its latest projects is Glue, a NASA-funded software program that links data sets and allows researchers to create sophisticated two- and three-dimensional images and graphs from their discoveries.
"We have infrared and radio imaging, X-rays, and catalogs of stars that come from different telescopes and formats," Goodman says. "Glue can blend them together."
Stephen Ansolabehere: National Collaborator on Voting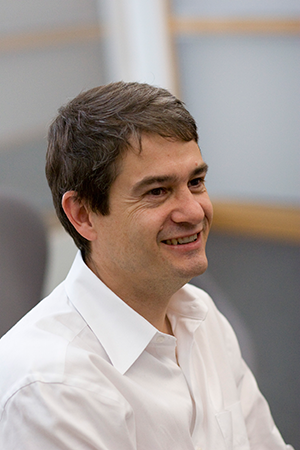 Professor of government Stephen Ansolabehere is using big data and sophisticated analysis to understand why Americans vote—or don't.
"We're learning so much about how people are participating in politics that is completely surprising and counter to what has been written in the past," says Ansolabehere, a leading scholar of U.S. elections, public opinion, voting behavior, and the media. "We do a lot of myth busting."
Ansolabehere and his research team have found that older people are more likely to vote not because they're more informed or have more resources—but because they move less. Young people tend to be mobile. "Individuals who move get knocked out of the [voter registration] system," he explains. "This is fixable."
To encourage collaboration among social scientists nationally, Ansolabehere launched and leads the Cooperative Congressional Election Study, a random-sample survey of more than 50,000 voters. The project, which now involves investigators at more than 60 colleges and universities, illuminates patterns and trends in American elections.
Ansolabehere taught Introduction to Congress last spring and guided his students to produce a rich database of legislative actions, decade by decade. "This is the first database of everything that Congress has accomplished for 225 years of its history," he says. "No political scientist or historian has ever done this. There are four senior theses coming out of that small class."
Ansolabehere appreciates the practical and intellectual benefits of being affiliated with IQSS and its support from the Dean's Leadership Fund-—from grant-writing resources to research assistance for students.
"IQSS is a magnet for an amazing set of people," he notes. "Harvard is a dynamic place, and a very big place. Creating communities like this is really valuable."
As seen in HARVARD MAGAZINE
---
Choose Harvard today with a gift to the Harvard College Fund.