A Lifetime of Giving Back to Harvard
Eryn Ament Bingle '95 and Mike Bingle
March 2, 2017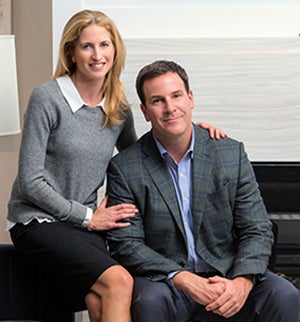 Estate planning may not be top of mind for people in their thirties and forties, when starting families, buying houses, and developing careers frequently take precedence. For Eryn Ament Bingle '95 and her husband, Mike, however, establishing a bequest to Harvard was a priority, even as young professionals. And it couldn't have been easier.
"I remember getting a card in the mail that asked 'would you consider remembering Harvard in your will?'" says Eryn. "So we said yes. It's important for us to support the places that have had a tremendous impact on our lives."
Giving back has always been a family value for the Bingles, who are dedicated supporters of their alma maters. "It's so rewarding to engage with an institution or cause that you love," she says.
The couple found the idea of a bequest particularly appealing because it would amplify their current philanthropy.
"We wanted to maximize what we could do for Harvard. At different times of your life, people have different resources to share. Sometimes time is at a premium, sometimes it's financial resources," she says.
She and her husband decided to set up a bequest to benefit Harvard College. "A bequest is the simplest form of an estate plan," she says. "It doesn't have to be elaborate, and it ensures that Harvard will receive an additional gift in future."
Harvard always loomed large for Eryn, since her days growing up in Falmouth, Massachusetts, as the daughter of a 1969 graduate. "Harvard has so many academic traditions, but chief among them is Harvard's commitment to training and producing public servants. That was something that spoke to me very deeply," she says.
While at Harvard, Eryn was a government concentrator, served on the Institute of Politics' Student Advisory Committee, and took on her first volunteer assignments for Senior Gift.
A lawyer by training, Eryn continues to build a career in public service, working on the district staff for Congressman Jim Himes '88 and on a number of state and national political campaigns. She lives in Riverside, Connecticut, where she and her husband are raising three school-aged children.
Still, Harvard is never far from her everyday life. A tireless volunteer leader, Eryn serves on the Harvard College Fund Executive Committee; as a class co-chair for her 10th, 15th, and 20th Reunions; on the National Advisory Board for Public Service at Harvard College (Phillips Brooks House); and as an alumni interviewer.
"Harvard is a better place because of alumni volunteers," she says. "I really encourage fellow alumni to give back and strengthen their engagement with Harvard. Most alumni aren't living in Cambridge or on campus, so this is a way to continue life as part of the Harvard community."
Eryn believes that giving back takes many forms, whether volunteering time or brain power, sitting on boards or interviewing aspiring students, or helping to fund scholarships. A bequest is an easy way to do even more.
"It's the one final thing you get to do for Harvard," she says.
"It's never too late or too soon to do something like this for the College," she says. "Without a crystal ball, I don't know how my bequest will impact Harvard, but it will be the end of a lifetime of giving back to a place that I love."
For more information about making a bequest to Harvard, please contact the Office of Gift Planning.
Photography by Chuan Ding.