Laurence Lebowitz '82, MBA'88
I Choose Harvard...
September 28, 2012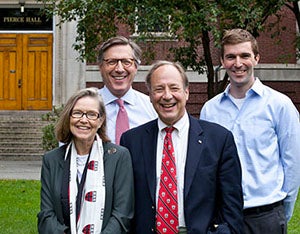 Our planet needs more engineers, and Harvard is poised to train them, Larry Lebowitz '82, MBA '88, believes. "We face big, complex, global challenges, and it's going to take great engineers who can communicate well and work effectively with policymakers to help address them," he says. "Harvard is well-positioned—in a way that few other institutions are-—to help improve the world."
Lebowitz, a longtime friend of Harvard's School of Engineering and Applied Sciences (SEAS), hopes his recent gift to establish a professorship will further strengthen the vibrant School and enhance its appeal to talented students mulling futures in engineering.
The Charles River Professorship of Engineering and Applied Sciences is held by Robert J. Wood, an award-winning investigator who develops microrobots inspired by nature. The professorship will be named for Lebowitz's former professor and undergraduate adviser Harry R. Lewis '68, PhD '74, Gordon McKay Professor of Computer Science, and his wife, Marlyn E. McGrath '70, PhD '78, director of Harvard College admissions, after their retirements. "Harry has been a role model for me," Lebowitz says. "He's brilliant, practical, effective, deeply principled, and loves Harvard. Being able to support the SEAS mission while honoring somebody who has had a meaningful impact on my life and career is a double benefit. And Marlyn's efforts to create the best student body in the world have been equally important to Harvard's excellence."
As an undergraduate, Lebowitz lived in Eliot House and studied computer science even before it was an official concentration. With a degree in engineering and applied sciences and an MBA from Harvard Business School, he pursued a 25-year career in money management, then became president and chief investment officer for The Investment Fund for Foundations, a nonprofit that helps other nonprofits manage their endowments.
Lebowitz serves on SEAS Dean Cherry A. Murray's advisory group. His gift supports the School's aim to expand its full-time faculty substantially to meet the growing demand and opportunities in engineering teaching and research. "Seeing SEAS from the inside," Lebowitz says, "convinced me that it was a cause worth supporting philanthropically."