A Laser-based Stopwatch
Ben Glauser '15 races against electronics
August 13, 2014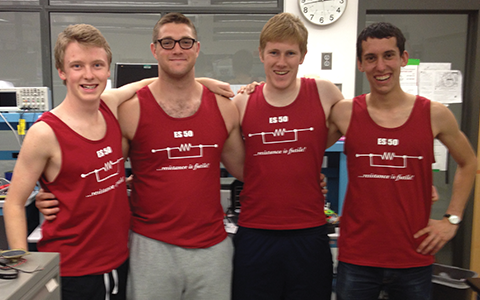 Visitors to this year's Design and Project Fair at the Harvard School of Engineering and Applied Sciences (SEAS) blended paint colors with an electronic glove, played tunes on a giant piano, challenged one another at arcade-style games, and checked out other innovations emerging from hands-on design classes.
They also measured their own running speed, thanks to a laser stopwatch system designed by Ben Glauser '15 and three classmates in ES50, an introductory electrical engineering course that draws students from all concentrations.
"At the core of our project was a desire to make track and field quantification more precise and efficient," explains Glauser, a neurobiology concentrator from Athens, Georgia, and Winthrop House, who captains Harvard's varsity track and field team. Jack Stevenson '17 and Ryan Meehan '15 are also on the track team, and William Cox '17 was a distance runner in high school.
After considering numerous approaches, the group decided to use lasers and multiple checkpoints to give runners accurate, real-time feedback on their speeds, he says.
Here's how it works. A laser is aimed at a receptor. When a charging body interrupts this beam, the light receptor sends a signal, using Arduino electronics, to begin the timer. Once the runner reaches the next checkpoint, the timer stops for the previous interval and starts again.
Harvard students in all fields want to be engineering literate. Undergraduate enrollment in engineering, computer science, and applied mathematics courses has more than doubled over five years. Non-concentrators make up more than half of the enrollment in SEAS courses.
"Having known relatively little about electrical engineering beforehand, it was great to see how much you could learn over a semester," Glauser says of ES50, popular for its dynamic teaching and emphasis on creativity. "Each week, we had the opportunity to put what we discussed in lecture to the test with an engaging lab component."
Their project challenged the students to work together, tap their knowledge and ingenuity, think critically about their design choices, and solve a problem on their minds. Says Glauser, "This was one of the best courses I've taken at Harvard."
Related:
As seen in HARVARD MAGAZINE
---
Choose Harvard today with a gift to the Harvard College Fund.