Kewsong Lee and Zita Ezpeleta Create a New Kind of FAS Professorship
December 1, 2010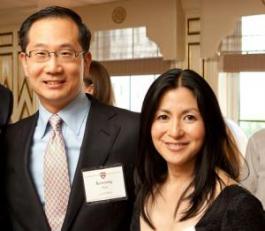 "If you have an opportunity to help your institution, you step up," says Kewsong Lee AB '86, MBA '90. Lee and his wife, Zita J. Ezpeleta AB '88, JD '91, recently demonstrated their shared commitment to Harvard's tradition of academic excellence when they established a new professorship in the Faculty of Arts and Sciences (FAS).
The Lee and Ezpeleta Professorship of Arts and Sciences is the first of a new kind of FAS chair. Their gift will support selected faculty members on a rotating basis for five-year terms, giving Michael D. Smith, FAS dean and John H. Finley, Jr. Professor of Engineering and Applied Sciences, a flexible way to recognize leading faculty and reward cutting-edge research across the FAS.
Lee describes the gift as yet another "tool" for Smith to use "to maintain the high quality of our faculty and of the undergraduate experience. It helps Dean Smith continue to attract and retain the best teachers and scholars in the world."
As undergraduates, the couple took advantage of Harvard's wide variety of offerings both inside and outside of the classroom. Lee concentrated in applied mathematics and economics by day and spent his nights as an active member of the Hasty Pudding Theatricals and the Kirkland Drama Society, while Ezpeleta studied literature and performed with the Radcliffe Choral Society and the Harvard branch of CityStep. According to Ezpeleta, "From the start, we envisioned a professorship that would be dynamic and capable of responding to the institution's changing needs. We are grateful for the opportunity to implement this gift in a novel way. Ultimately, we wanted to be as helpful as we could to Harvard."
As alumni, Lee and Ezpeleta remain dedicated members of the Harvard community. Ezpeleta, a former bankruptcy attorney at the law firm of Sidley Austin LLP, served on the Harvard FAS Task Force on Academic Resources. Lee is a managing director at Warburg Pincus, a private equity firm, and is on the board of directors for a number of companies, including Neiman Marcus and Aramark. He is also on the board and executive committee of the Lincoln Center Theater and is a co-chair of the Harvard College Fund Class of 1986 Reunion Gift Committee and a member of the FAS New York Major Gifts Committee.
"For us, it's pretty simple," says Lee. "So much of what my wife and I have accomplished in our lives began at Harvard. We want to say 'thank you' and give back in a way that we hope can make a difference."
From ReSOURCES, Fall 2010