Investing in Harvard's Future Today
Kathe '87 and Bill Pate '86, P'19, '16
February 28, 2017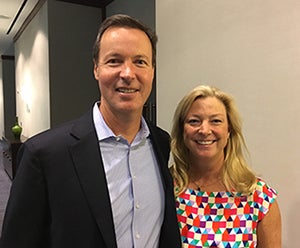 When her daughter Catherine '19, a mathematics concentrator, came to Kathe Aschenbrenner Pate '87 and said she wanted to spend the summer in Denmark "digging up dead Vikings" for a class on folklore and mythology, Kathe encouraged her to explore.
"Where else could you come up with that? These are the kinds of opportunities that Harvard offers," says Kathe. "I think the College is a place where there is no limit to the things you can investigate, wherever it takes you."
She and her husband, Bill '86, want to ensure that transformative experiences like these are an integral part of student life.
"Harvard enlarged our orbit and changed our perspective on what we can accomplish," says Bill. "We have always wanted to make a contribution to ensure that others have a similar opportunity."
The Pates were already loyal donors and active volunteers as members of the Chicago Campaign Committee, vice chairs for the Harvard College Parents Committee, and chairs for class reunion giving. They turned to the Office of Gift Planning to see how they could extend that commitment and ensure continuity in their giving.
After discussing their options, they decided a charitable remainder unitrust would best help them reach their goals. This flexible vehicle offers donors the opportunity to make a meaningful gift—with tax benefits—and get a variable income for a fixed term or for life. Beneficiaries receive a percentage of the unitrust's value, typically five percent.
The Pates established a 20-year unitrust with a gift of highly appreciated stock that allowed them to make a generous gift, avoid capital gains tax, and diversify their assets.
They like knowing that their gift will make a difference, particularly after meeting so many undergraduates as parents to sophomore Catherine and Emily '16, who graduated last spring.
It's also a way of giving back for their experience at the College. For Kathe, she remembers her days in government and economics classrooms and going back and forth between Eliot House and the boathouse as a coxswain for crew. Bill's Harvard years were filled with Leverett House friends, a concentration in history, and his running track and cross country.
Active in the Harvard community, the Pates return to campus frequently, not only as parents, but also to visit the Yard, cheer at The Game and Head of the Charles, or take in the Glass Flowers exhibit at the Harvard Museum of Natural History.
"Harvard opened so many doors for us," says Kathe, who was a financial aid recipient. "Many of our closest friends are the ones we made at Harvard, and we would not have made them without the generosity of previous alumni."
---
Contact the Office of Gift Planning for your confidential illustration of a charitable remainder unitrust.