Inspired by Harvard's Impact
December 22, 2014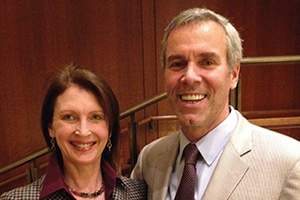 Whether they're connecting with fellow alumni and volunteers, returning to campus to see the renewed McKinlock Hall at Leverett House, reading a personal letter from a financial aid student, or cheering on the men's squash team, Theodore "Ted" '81 and Barbara Janulis P'16 are energized by Harvard. "The thing that excites us," Ted says, "is that whatever the University does, no matter the area or the discipline or part of the world, Harvard is doing something incredible."
Longtime supporters of the Faculty of Arts and Sciences (FAS), the New York couple has contributed to financial aid, House Renewal, and the Dean's Leadership Fund to help the FAS seize unexpected opportunities. Ted has also volunteered on several Harvard committees and helped lead his 30th reunion.
As an undergraduate, Ted lived in Winthrop House, concentrated in philosophy, and was involved with the Harvard Political Review and Phillips Brooks House. Today, the Janulises—who have three children, including Peter '16—enjoy getting to know Peter's squash teammates and other members of the Harvard community across the generations.
"Ted had a wonderful experience at Harvard, and we feel it's important to give back," says Barbara. Adds Ted, "It's great to support your alma mater, especially one that you admire and respect so much. Gifts to Harvard translate into actions and deeds in the world. You can just feel it in the most tangible way."
As seen in HARVARD MAGAZINE
---
Choose Harvard today with a gift to the Harvard College Fund.