Brian D. Young '76
I Choose Harvard...
March 30, 2012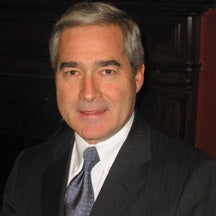 When it comes to supporting Harvard, Brian D. Young '76 is not usually a bricks-and-mortar kind of guy. His past gifts have provided financial aid, created a professorship, and addressed other pressing needs in the Faculty of Arts and Sciences.
So when he realized the House renewal project would not only modernize the storied structures but also improve students' educational experience, he was delighted. One of Harvard's goals is to create "advising communities" in each House to encourage more mixing among undergraduates and residential tutors. A typical cluster would include a tutor's suite with nearby bedrooms, common spaces, and bathrooms. "I thought that was a terrific concept," Young says. "When I lived in Quincy House, the tutors were in different parts of the building."
To mark his 35th reunion last year, Young and his wife, Anne (a Wheaton College graduate he met senior year), made a generous pledge to create one of these learning hubs. "The idea behind House renewal," he adds, "is to unlock the opportunities in these historic buildings and blend the best of the old and the new." Young, the father of three adult children, has spent the past 35 years in investment banking and private equity; he is currently a managing partner of the New York–based investment firm Eos. He volunteers on several Harvard committees and has consistently co-chaired his reunion gift committee, relishing the chance to reconnect with classmates.
A philosophy concentrator in college, Young believes the Houses enrich the liberal arts education by exposing students to different ways of thinking. "Undergraduates always say some of their most stimulating conversations have been over the lunch or dinner table," he notes. "Being around so many people of different backgrounds makes Harvard very special."