Sandra Ohrn Moose AM '65, PhD '68
I Choose Harvard...
January 5, 2011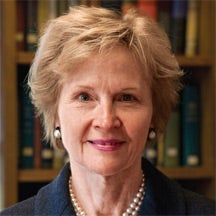 Being a woman doctoral student at Harvard in the 1960s wasn't easy; just ask Sandra Ohrn Moose AM '65, PhD '68.
The limited number of women graduate students put Moose in a distinct minority. A security guard barred her from Lamont Library, saying it was for men only. And, when invited to teach an undergraduate economics class, "The six young men in the junior honors tutorial were so disappointed to be the only ones who got 'the woman,'" she recalls. "In short order, they got used to me."
Despite these and other obstacles, she parlayed her degree into a long and successful career in management consulting.
Moose has given back to the Graduate School of Arts and Sciences (GSAS) in many ways, including remaining active in its Alumni Council and co-chairing the Graduate School Fund (GSF), which raises unrestricted support for the School. She demonstrated her commitment with a generous current-use gift to the GSF Fellows Program last year.
"In today's harsh economy, current-use, unrestricted gifts to Harvard's graduate program are especially valuable to support the next generation of scholars," says Moose, who lives in Chestnut Hill, Massachusetts, with husband Eric Birch '63, MBA '66.
In 2007, Moose established the Sandra Ohrn Family Graduate Student Dissertation Fellowship Fund to help ease the financial pressures on students and improve their quality of life. All of Harvard's graduate students in the humanities and social sciences are offered fellowships for the final year of completing their dissertations.
"Fellowships help us attract and nurture the most promising students, which in turn attracts excellent faculty, augments the experiences of Harvard undergraduates, and cultivates the intellectual leaders of the future," Moose explains.
Moose had planned to return to academia, but after finishing her dissertation mid-year, she looked into management consulting as a way to collect some experience and money. With her strong analytic and rhetorical skills, she broke the gender barrier at The Boston Consulting Group in 1968 by becoming the first woman hired as a business strategy consultant. Her expected two-year gig with the global firm turned into a 43-year career there, and she now continues as a senior adviser. Moose also serves as a director on the boards of public companies, such as Verizon Communications, where she is the presiding director, as well as on the boards of several charitable organizations. She was recently elected president of the Board of Trustees of the Museum of Fine Arts, Boston.
Moose has provided guidance to leaders in many industries and built a reputation as a superb mentor to women and men alike. She has been honored for her leadership and achievements, including her service as a corporate director and role in advancing the status of women in business.
"For me, the value of the GSAS experience was less in the specific content of any course and more in the process of critical thinking, such as structuring unstructured problems, developing hypotheses to test, and rigorously analyzing data to reach conclusions," Moose reflects. "This proved enormously helpful in my career as a consultant."