Tony Malkin '84 and Shelly Malkin
I Choose Harvard...
December 16, 2011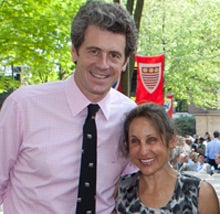 Shelly Malkin and Tony Malkin '84 have long recognized the power of stem cells—which have the potential to grow into many different cells and replace damaged tissue—and Harvard's leadership in this innovative area of biomedical research.
"Harvard offers stem cell learning and research opportunities to everyone from undergraduates on up," Tony Malkin says. "We want to help Harvard attract, teach, and keep its best and brightest and ensure the University remains the 'killer app' in the stem cell research environment."
In honor of his 25th reunion, the Malkins established The Shelly and Tony Malkin Faculty Development Fund for Stem Cell and Regenerative Biology to support scholars in these burgeoning fields. The fund builds on their earlier gift to the then-fledgling Harvard Stem Cell Institute to mark his 20th reunion. Tony joins his brother Scott '80 on the Harvard Stem Cell Institute Advisory Council.
As an undergraduate, Tony was not a science buff; the Adams House resident was a General Studies concentrator who focused on theatrical literature and relished his English, history, sociology, and other humanities classes. He went on to run his family's New York-based investment and property business, Malkin Holdings, and is a leader in energy efficiency retrofits—including a recent one for the Empire State Building. His father, Peter Malkin '55, JD '58, is chairman of Malkin Holdings. Shelly Belfer Malkin is an artist, rock climber, and environmentalist, and the couple are longtime supporters of Harvard, continuing their families' traditions of giving and service to the University.
"Shelly and I believe in venture capital philanthropy, where we find things with promise and where there's an opportunity to make a difference," Tony Malkin notes. "Harvard, with all of its history and tradition, is vibrant and offers many opportunities to make a tremendous difference."
Dec 19, 2011

The graduate teaching fellows who work with Michael McCormick, Francis Goelet Professor of Medieval History, get regular "screen time" with him. Read More

Dec 19, 2011

Pathbreaking work like Professor Michael McCormick's reflects the increasingly collaborative nature of academic inquiry, notes FAS Dean Michael D. Smith. "This is broadening our view in a host of disciplines, revealing unimagined new questions, as well as uncovering new approaches to old ones." Read More

Dec 16, 2011

Ask Philip Duff '79 why students choose Harvard, and he barely pauses. "Because there is something for every interest under the sun at Harvard—and in an exceedingly high-quality way." Read More