Jerry Jordan, Jr. '61, MBA '67
I Choose Harvard...
March 15, 2010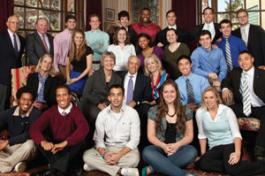 "Investing in a student is one of the great things you can do for humanity," says Gerald R. (Jerry) Jordan, Jr. '61, MBA '67. "An endowment gift of $250,000 creates one undergraduate scholarship for eternity, a unique and creative investment that perpetuates financial aid, for many outstanding students, theoretically forever. In this way, I am making the most extraordinary long-term investment there is: an investment in outstanding students."
Longtime supporters of financial aid, the Jordan family established the Gerald Jordan Family Scholarship, first awarded during the 1995–1996 academic year, to ensure that undergraduate students in need of financial support are able to attend the College. Of living Harvard alumni, Jerry Jordan and his family support the largest number of student scholars within Harvard College: this year, 39.
Jordan, a Boston-area native, spent his Harvard years in Winthrop House, concentrating in history, and was active with football. He is the founder of Boston-based Hellman, Jordan Management Company and is currently chairman. Jordan feels fortunate that he and his wife, Darlene KSGEE '01, are able to support undergraduates today, and that his family has the opportunity to continue that support in the future.
"I choose to make a gift to Harvard because it is an institution I love," says Jordan. "I grew immensely while an undergraduate, and I owe that opportunity to the financial aid Harvard offered me."