Sean Healey '83, JD '87 and Kerry Healey '82
I Choose Harvard...
February 8, 2012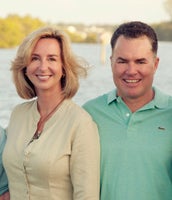 Sean and Kerry (Murphy) Healey had plenty in common when they met as undergraduates years ago. Both came from middle-class families in coastal towns. Their fathers were in the military and their mothers were schoolteachers. Each family had made significant sacrifices to pay for college.
"Harvard took a chance in accepting us, and, through generous financial aid, gave us the opportunity to receive a broad and deep exposure to academics and the larger world," the Healeys reflect.
Now they are helping extend that welcome to others. Through the Healey Family Cornerstone Scholarship Fund, established in 2010, they hope to enable talented students from all backgrounds to study "without the distraction of crushing debt or the guilt of family sacrifice hanging over their heads."
Kerry and Sean met during a class in 1979, but it wasn't until they were graduate students in Dublin, Ireland, that they reconnected. She went on to serve as lieutenant governor of Massachusetts with Mitt Romney during 2003—2007, while Sean became chairman and CEO of Affiliated Managers Group, a global asset management company. They have two teenage children and homes in Massachusetts and Florida.
At Harvard, Kerry lived in South House (now part of Cabot) and produced six plays and an opera. She recalls being among the first students to take the famous "Justice" course taught by Michael Sandel, the Anne T. and Robert M. Bass Professor of Government. "As a government concentrator, I had the opportunity to think deeply about the challenges facing leaders and to study their successes and failures," she says. "The first time I confronted the state's budgeting process as lieutenant governor, I thought, 'Oh, this is what Michael Sandel was talking about.'"
Sean lived in Eliot House, wrestled varsity for four years, and was a history and literature concentrator. "I'll never forget the late Alan Heimert's lectures and discussions on Moby Dick," he recalls of Heimert '49, PhD '60, the Powell M. Cabot Professor of American Literature. "My time at Harvard had a profound effect on my world view, and my sense of who I was and what I wanted to do with my life."
The Healeys give back with their time and financial support. They have contributed to the Harvard College Fund with immediate-use unrestricted gifts, which allow the Faculty of Arts and Sciences (FAS) leadership to target the University's most pressing needs. "While Harvard is blessed with a larger endowment than most institutions, the sharp downturn in investment returns over the last three years has left the FAS with a gap to fill," Sean notes.
As co-chair of the FAS Task Force on Student Support, Kerry is endeavoring to sustain Harvard's ambitious commitment to financial aid. "We alumni must," she says, "help ensure that Harvard continues to provide the best education in the world to all those who will take greatest advantage of that opportunity."
Feb 8, 2012

Shiya Wang '13 knew only basic English when she left Wuhan, China, at age 15 to study piano at the acclaimed Juilliard School. Seven years later, Wang has not only overcome the language barrier, but she has become an English concentrator at Harvard College with a passion for 19th- and 20th-century American and British literature. Read More

Feb 8, 2012

Coming from a family of moderate means in small-town Ohio, Don Wilson '70 depended on financial aid to attend Harvard College. Now, after a successful career in international banking, he is returning the support. Read More

Feb 8, 2012

China had just begun to modernize its economy after the Cultural Revolution when Xiang-Dong (X.D.) Yang '87, MBA '92 found himself in Harvard's famed Economics 10 class, wrestling with basic concepts that other students got intuitively. Read More