Richard M. Cashin, Jr. '75, MBA '80 and Elizabeth Smith Cashin '75
I Choose Harvard...
March 30, 2012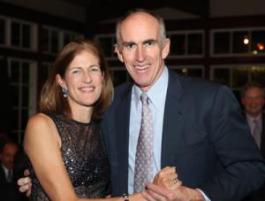 Richard and Elizabeth "Lisa" Cashin met the first week of freshman year, and their connection to Harvard and each other keeps growing stronger.
"The best thing I got out of Harvard was my wife," Dick Cashin says. "Many of our friends are from college and our kids (Frances '07 and Henry '11) were able to go to Harvard. We've been participating/rowing in the Head of the Charles for the past 37 years and have been part of Harvard's reunion and fundraising efforts since graduation."
The importance of these lifelong social ties, forged during classes, sports, and meals, has inspired the Cashins—who live in New York City—to make a generous gift toward Harvard's House renewal effort. Breaking ground in June, the multiyear project will revitalize the aging undergraduate residences, both physically and programmatically. The Cashins are excited about helping Harvard provide more communal spaces, from lounges to multipurpose rooms, for learning and socializing.
Thinking back on college, Lisa Cashin met a cross-section of classmates in Currier and then Lowell House, and she took advantage of the blizzard of lectures and concerts advertised on messy bulletin boards outside the dining halls.
"Although I was an anthropology concentrator, some of my most memorable courses were in the English, Slavic, and Fine Arts departments," she notes. Her thesis on the South End of Boston foreshadowed a career in helping redevelop blighted neighborhoods across America, which she does as a director of the New York–based Local Initiatives Support Corporation.
Dick Cashin resided in Winthrop House—like Lowell, one of the College's seven original Houses. An East Asian Studies concentrator, he recalls learning from world-class professors such as John K. Fairbank, Edwin O. Reischauer, and Ezra Vogel, and crafting his thesis on the Chinese business community in Indonesia. (His late father, Richard M. Cashin '46, was an international aid official.)
After two years in Hong Kong and a degree from Harvard Business School, Cashin joined Citigroup and then JPMorgan. He is now managing partner of One Equity Partners, which makes investments for JPMorgan Chase & Co.
One undergraduate high point was training with venerable coaches John "Jack" M. Barnaby II '32 in squash and Harry Parker, Thomas Bolles Head Coach for Harvard Men's Crew. "I was no good at sports when I got to Harvard," Cashin says, "but the coaching and competition were so terrific that I ended up with a world champion rowing medal and made the 1976 and 1980 Olympic crew teams after graduation." He also earned the William J. Bingham Award, Harvard's highest athletic honor.
The couple is co-chairing their class reunion gift committee, a role Dick has played for some 35 years. Beyond their fundraising leadership, the Cashins have served on numerous Harvard and Radcliffe committees looking to enhance the student experience—including renewing the cherished House system.