House Renewal Takes Shape
Challenge gift supports efforts to enhance student experience
December 14, 2012
When Glenn Hutchins '77, JD/MBA '83 moved into Winthrop House—one of Harvard's seven original Houses and the former home to President Kennedy, Ben Bernanke, and other luminaries—he didn't realize his experiences would be so enduring.
"I lived with six other roommates in C-51, a fifth-floor walk-up," he says. "The bonds we formed have lasted for 35 years and counting. To this day, we have an annual reunion that is a highlight of our year."
As Hutchins well knows, Houses are at the heart of a Harvard College education. Each of the 12 residential Houses is a multigenerational community where undergraduates, graduate students, resident tutors, and faculty of different backgrounds and perspectives live, work, relax, and learn together.
"The Houses break down Harvard into manageable components. It's your home and neighborhood inside a big city," says Hutchins, a longtime University supporter from New York. "The genius of the House system is that it makes you feel recognized and valued. You sense you're in a special place."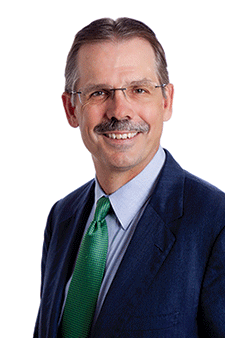 That's why the Hutchins Family Foundation, endowed by Hutchins, has established a challenge fund to support the House renewal program. The fund is part of the Foundation's recent $30 million pledge to Harvard University. The ambitious, once-in-a-century project aims to enhance the distinctive residential system, which opened in the early 1930s, to better address the academic, social, and daily living needs of today's students. Far more than a bricks-and-mortar project, House renewal seeks to reimagine the spaces for twenty-first-century living and learning. "The Houses will play an essential role in making Harvard's undergraduate experience the best among its peers," Hutchins says.
The Hutchins Family Challenge Fund for House Renewal aims to encourage significant gifts to name spaces in the first two buildings being refurbished, Old Quincy and McKinlock Hall in Leverett House. The idea, says Hutchins—who is co-chair of the University and the Faculty of Arts and Sciences (FAS) fund-raising campaign now being planned—is to use the challenge fund to stretch other donors' dollars to reach naming levels they might not otherwise attain.
"Glenn understands the transformative power of the House system and the unique role it plays in our students' lives," says FAS Dean Michael D. Smith, John H. Finley, Jr. Professor of Engineering and Applied Sciences. "The challenge fund invites alumni to join in strengthening one of our most cherished institutions. This is the power of alumni leadership, and I am deeply grateful to Glenn and his family."
House renewal is expected to span more than a decade and to exceed $1 billion for the neo-Georgian River Houses alone. The Hutchins gift comes at a perfect time, according to Smith. "How we start this large, complex, and important project is critical. Extensive planning and consultation with our community, as well as support from President Faust, have positioned us for success. Gifts from Glenn and several other donors who have stepped up at a high level will enable us to engage immediately with our full vision for the Houses. Our students deserve nothing less."
---
Building Community
The renewal will preserve the historic character of the Houses—many of which were built 80 to 100 years ago—while reconfiguring and updating them with everything from greater privacy and more electrical outlets to contemporary classrooms and student activity space. And the work will be done in an environmentally friendly way.
One goal is to encourage more formal and informal interactions among House members. New "advising communities," for example, will situate resident tutors' suites on the same floor as the undergraduates they mentor, fostering a sense of community and reinforcing the multidimensional model of House life envisioned by President A. Lawrence Lowell in the 1920s.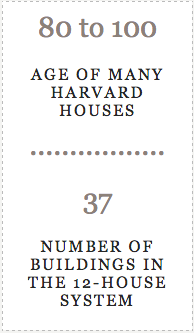 Old Quincy is one of two pilot renovations that will test design, financing, and construction concepts for House renewal. When it reopens in fall 2013 after a 15-month overhaul, Old Quincy will more comfortably accommodate its roughly 180 undergraduates and their tutors (now living in nearby apartments). Changes include horizontal hallways to complement traditional vertical entryways, the elimination of walk-through bedrooms, modern bathrooms, elevators for accessibility, and energy-efficient walls and windows. A previously underused lower level is being transformed into classrooms, music practice spaces, duplex suites, and a community room that opens onto a terrace facing New Quincy.
McKinlock, slated to break ground in June 2013, offers a chance to reinvigorate a dining hall and a wide variety of common spaces found in a House. One of the more dramatic plans involves glassing over an "alley" beside the dining hall and creating areas across the passageway for functions, informal eating, and recreation. "This will be a place for activity and community," says Merle Bicknell, who manages House renewal for the FAS.
These test projects, along with feedback from students and others over many months—will inform the first full House renovation, of Dunster House. KieranTimberlake architects, which designed Old Quincy and McKinlock, are now developing plans for Dunster, one of the oldest of the River Houses. Construction is to begin in June 2014, and the University-owned Inn at Harvard and other buildings will serve as a temporary "swing House" to accommodate undergraduates during construction.
"We will make sure the swing housing feels both like a House and a home to the students living there for a year of their College experience," notes Dean of Harvard College Evelynn M. Hammonds, Barbara Gutmann Rosenkrantz Professor of the History of Science and of African and African American Studies.
---
Harvard Anchors
Hutchins, a native of Virginia, came to Harvard College by way of the Lawrenceville School in New Jersey. He was soon mentored by his House Master and chairman of the Social Studies program, Martin Peretz. "Marty made me feel valued as a part of his intellectual circle," says Hutchins. Under Peretz's guidance, Hutchins found direction as a concentrator in social studies, where he relished classes and dinners with some of the great minds of the day. "The social studies sophomore tutorial was the academic equivalent of Parris Island for the Marines," he remembers. "Once you mastered that, you felt you could handle anything at Harvard."
Another anchor was the late John Marquand, a longtime FAS administrator who generously counseled Hutchins and his friends and later hired Hutchins as a law/business tutor in Dudley House (for nonresident students) during graduate school. "John was a dear friend and guardian angel for us at Harvard," Hutchins says.
Hutchins went to Wall Street after college, discovered he liked business, and stuck with it—except for a two-year stint as an adviser to then-President Bill Clinton. He is currently co-founder and managing director of Silver Lake, one of the world's largest firms investing in technology and technology-enabled businesses. Hutchins also has leadership roles with the Federal Reserve Bank of New York, the Brookings Institution, New York-Presbyterian Hospital, and the Boston Celtics. He and his wife, Debbie, have two sons.
Harvard benefits from Hutchins' expertise and philanthropy in many ways. He serves on the Harvard Management Company's Board of Directors, and his fundraising activities include co-chairing the record-setting Class of '77 gift committee since graduation with Microsoft CEO Steve Ballmer.
He is devoted to Harvard's W. E. B. Du Bois Institute for African and African American Research and is close to Institute Director and Professor Henry Louis Gates, Jr. "Being able to engage intellectually with Skip and his colleagues is like being a student all over again—without the term papers," Hutchins says. "The Du Bois Institute has become a second home to me."
The Hutchins Family Challenge Fund for House Renewal reflects Glenn Hutchins' affection for Harvard and his desire to fortify the House system for generations to come. "I was brought up to believe that if you have been successful, you have the obligation to give something back to the institutions that helped you," he explains. "You want to leave them stronger than you found them, just as they did for you."