Honoring the Past, Looking to the Future
House renewal project aims to modernize buildings and fortify what happens inside
March 30, 2012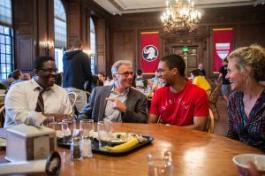 Dinnertime at Eliot House is always surprising for Co-Masters Douglas Melton and Gail O'Keefe. They never know what they'll wind up discussing. The nature of citizenship? A new phone app developed by a sophomore? Renaissance dance?
"We have the most interesting conversations with our students," says Melton, Xander University Professor. "Being here is energizing and exhilarating."
Now in their own "sophomore year" as co-masters, Melton and O'Keefe appreciate, more than ever, the pivotal role played by Harvard's 12 undergraduate Houses. "They are places where students weave together the academic, extracurricular, and social strands of their Harvard lives and develop their identities as leaders, scholars, and members of a community," Melton observes. "In my view, the House is the epicenter of the Harvard experience."
As strong and vibrant as they are, the Houses need attention. That's why the Faculty of Arts and Sciences (FAS) has begun an ambitious multi-year effort to renew the cherished residential system to meet the needs of 21st-century students. The idea is to modernize the buildings, broaden the opportunities for personal and intellectual growth, and preserve the traditions and historic character of each House. A pilot renovation of Old Quincy House is set to break ground this June.
"Harvard's House system gets high marks in student satisfaction. That's due both to the strength of the model and the enhancements we've made to House programming over the last five years," says FAS Dean Michael D. Smith, John H. Finley, Jr. Professor of Engineering and Applied Sciences. "We want to build on that by bringing innovative teaching and learning activities into the Houses, and by developing 'neighborhood' connections that will draw students and faculty together."
Nonstop Learning—and Fun
President A. Lawrence Lowell might not recognize today's interconnected world, but he surely would applaud the enduring qualities of the House system he championed in the late 1920s to better unify the student body and nurture mind, body, and character. The first seven Houses were completed in 1931, thanks to a transformative gift of $13 million from Edward Harkness.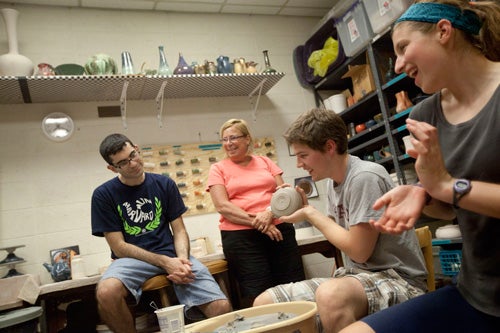 Harvard's Houses encourage undergraduates of many backgrounds and perspectives to mix with peers, professors, graduate students, staff members, and visiting scholars. They're intergenerational communities where students, for example, can get academic advice, play flag football, retreat to the library, perform in an opera, untangle a chemistry problem with Housemates, or savor a late-night snack.
New things are always happening. At Eliot House, Melton and O'Keefe recently began a series of "fireside chats"—informal conversations with guest writers, human rights advocates, and politicians, as well as intimate "meatballs with the masters" dinner parties. They reinvigorated the woodshop and started a knitting circle. O'Keefe arranges field trips to Boston landmarks. On Monday nights this spring, Melton, who codirects the Harvard Stem Cell Institute, recapped the popular course "Ethics, Biotechnology, and the Future of Human Nature" he cotaught with Michael Sandel, Anne T. and Robert M. Bass Professor of Government. "The Houses help bring the University down to a human scale, nurturing the face-to-face interactions that shape students for life," says Smith. "It's not necessarily the late nights in Widener or the brilliant lectures that define the Harvard experience. It's the lasting relationships with truly amazing people."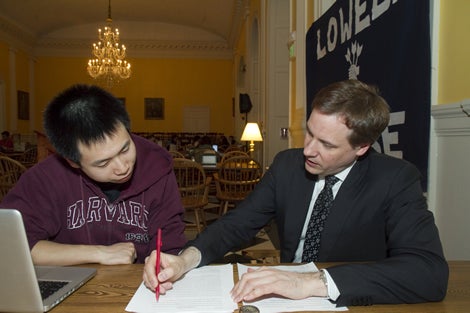 As Dean of Harvard College Evelynn M. Hammonds points out, the Houses remain relevant in this digital era. "Even in an age where technology allows students to talk and work with people all over the world, the residential community is a critical component of the liberal arts education."
Opening Doors
About 4,800 sophomores, juniors, and seniors live in the House system. With demand exceeding available space— the system accommodates 700 more students than it was designed for—some 260 undergraduates are in apartments on DeWolfe Street, though each floor has a House affiliation. Other undergraduates are in common spaces that have been carved up to create more bedrooms.
The need to address space and infrastructure needs—especially in the oldest, Neo-Georgian River Houses— offered a once-in-a-century opportunity to reimagine the buildings' physical layout to enhance residential life. Shifting walls, for example, allows for more single bedrooms and privacy, as well as more "horizontal" connections among rooms and entryways—to say nothing of 21st-century plumbing, heating, and other systems behind the walls.
A careful planning process to consider the mission and purpose of the Houses, led by Hammonds (who is also Barbara Gutmann Rosenkrantz Professor of the History of Science and of African and African American Studies) involved a multitude of meetings with faculty, students, alumni, administrators, parents, architects, and engineers, along with visits to Yale and Princeton to learn about their dormitory renewal projects.
Among the themes for House renewal: Foster more student-faculty interactions. Boost the visibility of resident tutors. Keep a dining hall in each House. Expand the number of study spaces and flexible venues for student-run events. Offer more privacy in bedrooms and bathrooms. Make the buildings more accessible and energy-efficient. Maintain the uniqueness of each House.
Undergraduates have contributed many ideas for room design, programming, and ways to preserve House unity during construction. "I'm grateful to the deans for including students at every stage of the project," says Senan Ebrahim '12, a neurobiology concentrator from San Jose, Calif., and Quincy House.
Timing is Everything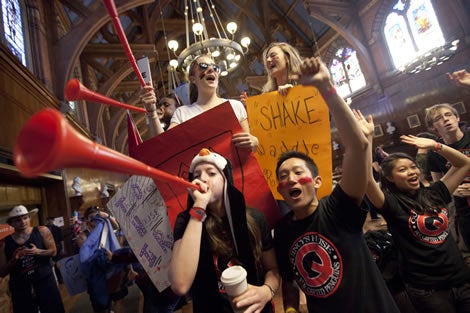 How quickly this complicated, expensive, and important project, which could span 10 to 20 years, moves forward will depend on the availability of donor funding. Melton believes the moment is right and that the House system positions Harvard well for the future. "House renewal has come at a perfect time as we—and universities everywhere—rethink the nature of education in the digital, connected world. With access to information now here," he says, tapping a laptop computer, "the House becomes an even sharper focal point for your Harvard experience. We're lucky we have a House system, and here's our chance to refurbish it."
Choose Harvard today with a gift to the Harvard College Fund.