I Choose Harvard: Ab Gupta '04
Ab Gupta '04
February 15, 2013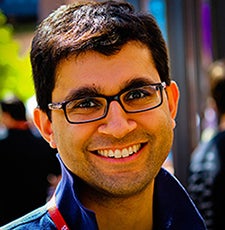 Since graduating from Harvard, Ab Gupta '04 has lived in five cities, launched an investment office in Mumbai, earned two advanced degrees, and served as CEO of a 200-person company. The constant during that change-filled time? His Harvard College ties.
Grateful for the friendships formed and wisdom gained, Gupta gives back with his time and resources. He established the Gupta Financial Aid Fund to mark his 5th reunion in 2009 and has continued to support Harvard's trailblazing scholarship program. Gupta was inspired to start the fund by his father, a South Florida businessman who encourages employees to further their education, as well as the exceptional undergraduates who might not have enrolled without financial aid.
"Financial aid is an important part of the secret sauce that makes Harvard special," says Gupta. "It brings a wide diversity of opinions and passions under one roof."
An economics concentrator from Cabot House, Gupta especially valued a course in behavioral economics with tutorial leader Bryce Ward PhD '06. "He explained that even seemingly irrational decisions are made for a reason," Gupta remembers. "That course instilled a sense that there is always an answer—you just have to keep digging."
Some of Gupta's favorite times unfolded at the Harvard Lampoon, where he served on the business staff. "Harvard students are used to being the best, but at the Lampoon we celebrated failure as much as success," whether that meant bombing a joke or having a celebrity turn down an invitation to campus.
Another highlight was Harvard Student Agencies, where Gupta held several leadership positions, including president in 2003-2004. "It was an incredible crash course in running a company," he says. "I made so many mistakes. But once I graduated, I realized how HSA accelerated my management experience."
After college, Gupta spent several years in the investing world, including opening Bain Capital's Mumbai office, before earning MBA and MS degrees from Stanford in 2012. He is now a vice president at Friedman Fleischer & Lowe, a private equity firm in San Francisco.
Gupta has served on his class gift committee since graduation (co-chairing it in 2009) and on the FAS Dean's Committee for Communications. He recently joined the Harvard College Fund West Coast Council, which aims to foster connections among alumni there.
"Harvard has been a very important community for me," Gupta notes. "That post-college period can be hard. You're in school for most of your life, then all of a sudden you're in a competitive, demanding job. My college friends helped me get through it, and volunteering for Harvard is a way to give back."
Oct 14, 2015

William E. Markus '60 and his wife, Carole, have named a seminar room in Dunster, the first full House to undergo renewal. The gift, which helps to foster student-faculty exchange, is one reflection of their commitment to Harvard. Read More

Oct 14, 2015

Daniel J. Ullyot '58 named an advising community in Leverett House's McKinlock Hall in honor of his senior tutor, Richard Gill '48. Read More

Oct 14, 2015

Loyal Harvard volunteers, Kewsong Lee '86 and Zita J. Ezpeleta '88 have established a challenge fund to support House Renewal and the undergraduate experience. Read More