Gifts of Real Estate and Other Assets Offer Advantages
May 9, 2014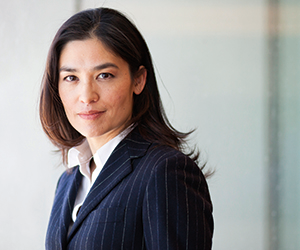 Nancy Keller-Go, senior vice president of Estates and Special Investments at Harvard Management Company (HMC), sat down with Gift Strategies to discuss her path to Harvard and the benefits of charitable gifts.
Q: What brought you to Harvard?
After studying economics and politics at Yale, and earning a master's degree in art history, I did a stint as a fashion merchandiser for the Gap's U.S. stores. Eventually, I went
to law school and spent more than 15 years in private practice, advising individuals and families on complex estate planning matters. During that period, I also cofounded a specialty wine retail business.
Joining HMC was a career shift that offered an exciting opportunity to leverage all of my professional experiences and interests. As a lawyer, I worked with individuals and their families to define their legacies and help them achieve personal and philanthropic goals in the most tax-efficient manner. In my work at Harvard, it is valuable to be able to understand donors' needs when they are making charitable gifts.
Q: How do you work with University Planned Giving and generous supporters of the University?
I partner with UPG colleagues to assist prospective donors considering gifts toHarvard of interests in private companies, restricted stock, real estate, art and collectibles, mineral interests, life insurance, book and film royalties, and other complex assets. A donor might choose to make an outright gift, or to structure a planned gift to receive a stream of income.
Q: One way to support Harvard is through gifts of real estate. How does the real estate gift process work, and what are some advantages of these gifts?
All a donor needs to start the process is an interest in making the gift. If a donor is interested in giving real estate, he or she should call UPG. Our shared goal is to provide swift, responsive service.
With a gift of real estate, a donor can maximize a gift to Harvard while minimizing taxes and without affecting liquidity. By making an outright gift of property, the donor can also avoid the hassle of hiring
a broker, negotiating a purchase and sale agreement, and all of the back-and-forth associated with selling real estate.
A home, second residence, commercial real estate, or even raw land may be a terrifc asset to donate. A gift of illiquid assets may have significant tax advantages if the property has grown in value since the
donor acquired it. An optimally structured gift of appreciated property to Harvard can eliminate the capital gain tax, which would otherwise be due if the property were sold, and can entitle the donor to a tax deduction for the full market value of the asset. Because Harvard is a public charity, it is typically able to sell the assets without incurring tax, so the entire proceeds can be used to support the University.
Q: What are some of the more interesting gifts you've seen?
Many years ago, Harvard received an interest in a company that owned office towers in Manhattan. The company founder gave all of the interests in the company to several institutions conducting cancer research. When the time came to sell, we worked with the other shareholders to select the right broker, structure the sale, and negotiate with the buyer. Harvard took an active role in that complex process,
with a very successful outcome.
Gifts of private or closely held company interests are always fascinating. Often, we work with a founder whose vision and passion created the company and built the value that he or she is now able to contribute to the University.
Legal and tax considerations may accompany these gifts; one of the best parts of my job is working closely with donors to find creative solutions.
Q: Why do you enjoy working to support Harvard?
It is very satisfying to know that my work contributes in some small way to making Harvard more accessible. It's important to individual students and our global community that exceptional young people who will shape our common future have the opportunity for exceptional learning. All of us have an interest in supporting education and research that push the boundaries of knowledge and improve lives.
There is a tremendous energy and excitement around each gift because each donor has an inspiring story, and each gift is meaningful to the University community.
Q: What do you like to do in your spare time?
I like to spend time with my husband and my kids. They help me live in the moment. My husband continues to build vinodivino, the wine business we founded together. I get to taste a lot of wines I wouldn't ordinarily get to try, and my husband has to do all the heavy lifting!
Dec 22, 2014

Members of the Class of 2014 Senior Gift committee found creative ways to encourage classmates to make their first gift to Harvard. Read More

Dec 22, 2014

Longtime supporters of the Faculty of Arts and Sciences, Theodore '81 and Barbara Janulis P'16 have contributed to financial aid, House Renewal, and the Dean's Leadership Fund. Read More

Dec 22, 2014

Lucerito Ortiz '10 was able to attend Harvard thanks to its extraordinary financial aid program. Now she's paying it forward. Read More