Fueling Innovation, Discovery, Opportunity
Dean's Leadership Fund
June 25, 2014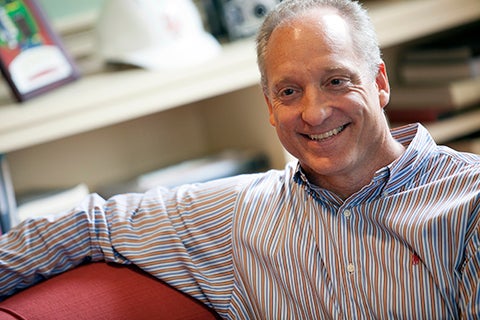 Michael D. Smith's office in University Hall is a Grand Central of ideas. Faculty and students knock on his door—every 10 minutes, it seems—with imaginative proposals for the Faculty of Arts and Sciences (FAS): New courses. Unexpected faculty hires. Energy-saving equipment.
"I want people to be thinking expansively," says Smith, Edgerley Family Dean of the Faculty of Arts and Sciences and John H. Finley, Jr. Professor of Engineering and Applied Sciences. "My job is to figure out how to support what they want to accomplish."
One of Smith's most important resources is the Dean's Leadership Fund, which provides discretionary dollars to sustain Harvard's excellence in teaching, learning, and discovery. These immediate-use funds have helped Harvard dramatically expand its financial aid program, launch House Renewal to modernize the historic residences, and establish a global online learning presence through HarvardX, among other initiatives. The fund also enables investments in classroom technology, advising, athletics, undergraduate research opportunities, and other core FAS programs.
"The Dean's Leadership Fund allows us to react creatively to circumstances. Without it, we'd be much slower in our ability to undertake new and exciting activities," says Smith, who became dean in 2007—just before the global financial crisis threatened the FAS budget. Smith tips his hat to alumni leaders who advocated for making more unrestricted funds available: "I'm grateful to them and all our donors for having faith in me to choose how best to spend these dollars."
The following stories show how the Dean's Leadership Fund strengthens the FAS by supporting scholarships that change the lives of undergraduates and their families forever, by allowing Harvard to recruit remarkable professors, by investing in exceptional graduate students, and by infusing the arts into the curriculum in new ways.
Opening Doors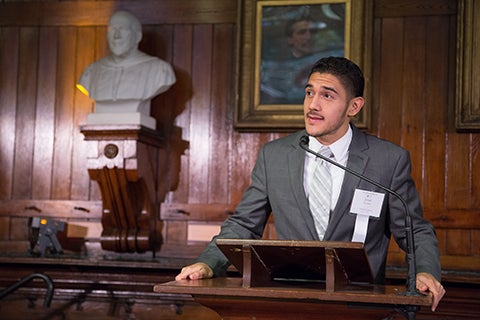 Growing up in San Diego with limited means, Jesse Sanchez '14 never imagined he would attend Harvard College, mentor youths around the world, write a 140-page senior thesis, and land a coveted Fulbright Scholarship to work in Mexico. Harvard's pioneering financial aid program makes these kinds of dreams possible, both for Jesse and for the approximately 60 percent of undergraduates who receive need-based scholarships every year.
"This opportunity to change my family's reality came from people like you," Sanchez, a first-generation college student and an Adams House resident, told attendees at this year's Celebration of Scholarships dinner in Annenberg Hall. "And there are no words to express my gratitude." The popular event brings together undergraduates who receive financial aid with donors, many of them alumni who benefited from scholarships themselves.
Bringing talented young scholars from all backgrounds to campus and helping them flourish is the foundation of Harvard's excellence. Unrestricted resources from the Dean's Leadership Fund—along with endowment support—underpin this access to a life-changing education. After the financial markets crashed in 2008, those dollars were crucial to Harvard's ability to continue offering industry-leading financial assistance, allowing Dean Smith to meet a surge in demand for student aid.
The annual Celebration of Scholarships dinner highlights the success of the 10-year-old Harvard Financial Aid Initiative and Harvard's long tradition of support. Smith relishes attending the event, which gives students the chance to describe how Harvard has opened doors to boundless opportunities. The donors, meanwhile, "can see how their gifts have made a big difference in somebody's life," Smith says. "It's always emotional and inspiring to hear these stories."
Rising Star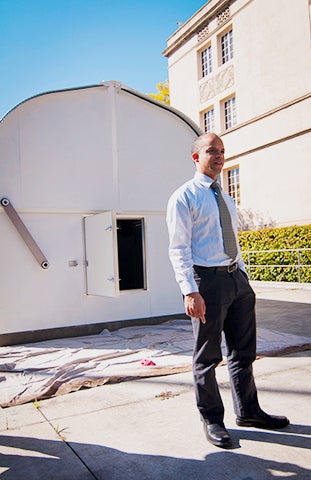 Students in John Asher Johnson's introductory "Stellar and Planetary Astronomy" course this spring got a galactic treat: a glimpse of an exoplanet—one of the Earth-like planets circling stars outside our solar system—through a telescope atop the Science Center. Exoplanets, which may be capable of supporting life, are the focus of leading-edge research by Johnson, who joined the Harvard faculty this academic year as a professor of astronomy.
"He's an example of someone who's doing phenomenal, unbelievably interesting scholarship today," says Smith, who tapped the flexible Dean's Leadership Fund to go the extra mile in recruiting Johnson from Caltech and helping him get established at the Harvard-Smithsonian Center for Astrophysics (CfA).
"Harvard's support of my research has been tremendously helpful," says Johnson, who was singled out as one of Astronomy magazine's 10 "rising stars" in 2013. "I'm building a robotic telescope facility to search for Earth-like planets around neighboring stars, called Project MINERVA. Harvard has also provided salary support for students and postdocs, which is huge during this time of decreased federal funding. Being here has allowed me to recruit a diverse and talented group."
The CfA's commitment to exoplanetary science "means that I am surrounded by the world's experts in my field of astronomy," he says. "Every day, I feel like I am at a conference on stars and exoplanets."
Johnson is an outstanding teacher who takes an active-learning approach. For example, students in his introductory course submitted weekly blog posts presenting solutions to problems and something in astronomy that grabbed their attention. He says that having their work online, where it was visible to anyone, elevated the quality of their writing.
Unlocking the Power of Many Brains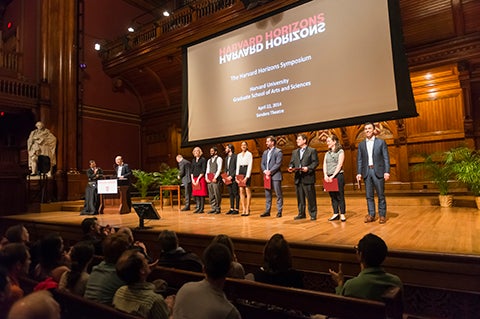 The secret life of deep-sea microbes. Defiant Japanese soldiers. How cells make decisions. Aspirin's role in fighting breast cancer. Social networking in ancient Assyria. Treating chronic pain and itch. A simple test for sickle cell disease. Improving the search for extraterrestrial life.
These eight complex topics were each described with impressive simplicity and poise by Graduate School of Arts and Sciences (GSAS) PhD candidates during the second annual Harvard Horizons Symposium in April. Chosen by faculty and mentored over several months, the scholars distilled years of doctoral research into engaging five-minute presentations about their work.
"The audience experienced the power of crisp communication," Smith blogged after the symposium. "These young scholars captured my imagination and made me want to know more. As a computer scientist, I believe in the power of communication networks. They allow us to take the spark of an idea occurring in one brain, and unlock the power of many brains." (View his blog.)
Harvard Horizons is underwritten by Stephen Blyth PhD '92, a professor of the practice of statistics. The program also would not be possible without the Dean's Leadership Fund, which provides significant investments in graduate fellowships and teaching support, ensuring that Harvard continues to attract these exceptional students and future thought leaders.
As an example, flexible immediate-use dollars were instrumental in launching January@GSAS, an array of winter break activities for students designed to build personal and professional skills.
Graduate students represent the future of knowledge, whether they become professors or industry leaders, and are an essential part of Harvard life. "They make a University that much more vibrant," says Smith. "They're always bringing new ideas and experiences."
Magical Moments in the Classroom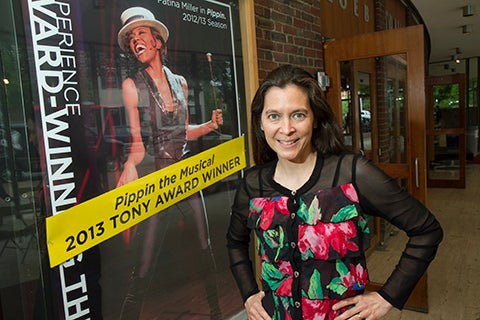 As artistic director of the American Repertory Theater (A.R.T.), Diane Paulus '88 has brought magic to the stage, wowing audiences and garnering Tony Awards for her inventive revivals. Last fall, Paulus, professor of the practice of theatre, brought magic into the classroom as part of "Theater and Magic," a freshman seminar she created with Shakespeare scholar Marjorie Garber, William R. Kenan, Jr. Professor of English and of Visual and Environmental Studies.
The class featured readings, films, performances, and discussions on the role of magic in English Renaissance and contemporary theater. Tied to the A.R.T.'s trickery-filled adaptation of The Tempest, the course included visits from guest artists such as director Aaron Posner, who shared his working script for the show, which he directed with legendary illusionist Teller. "What you are seeing is a working, living, breathing document that will change and morph," Paulus told the first-year students. This was the third time she and Garber co-taught a course, all of them framed by productions at the A.R.T.
Students love experiencing the art-making process, says Smith. "Seeing it happen makes it so much more tangible and exciting."
The Dean's Leadership Fund supports creative collaborations like these that keep Harvard's curriculum fresh and cutting edge. The FAS also invests considerable unrestricted funds in Harvard's Office for the Arts to foster student engagement in the arts. This happens through myriad classes, performances, exhibits, grants, and opportunities to learn from accomplished professional artists, such as campus sessions with filmmaker M. Night Shyamalan and Broadway star Brian Stokes Mitchell.
At a recent Harvard event in Los Angeles, Paulus stressed the importance of integrating the arts into the University's intellectual life. "Theater and art can be instrumental in how we understand our lives," said Paulus, recently named one of theworld's 100 most influential people by Time magazine. "I love the idea of moving theater out of a bubble of culture and showing that it matters to us as human beings."
Whether providing resources to fuel emerging ideas or reinforce key programs, the Dean's Leadership Fund is vital to Harvard's leadership. "These dollars give us flexibility so we can continue to innovate," says Smith. "It's an extremely important part of what we try to accomplish."
As seen in HARVARD MAGAZINE
---
Choose Harvard today with a gift to the Harvard College Fund.
Jun 25, 2014

More than 19,000 alumni give to Harvard year after year and become members of the 1636 Society. Learn why. Read More