Fueling Innovation at the Harvard School of Engineering and Applied Sciences
Ben Nguyen '88, MD '92, and Kim Nguyen '93 support pressing research and teaching needs
August 13, 2014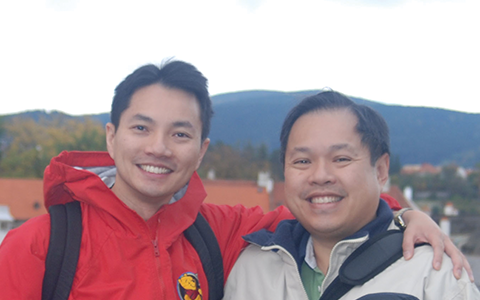 During his 25th reunion last year, Ben Nguyen '88, MD '92, took a tour of the Harvard School of Engineering and Applied Sciences (SEAS) and liked what he saw. So did his kids.
"I was impressed by the projects, classes, and labs—including the flying robotic insects—and by Dean Cherry Murray's commitment to continue developing SEAS," Nguyen says of Harvard's newest School. "My sons loved using the robot arm to get candy and seeing the 3D printer."
SEAS, established in 2007 from a division of the Faculty of Arts and Sciences, fosters world-changing research, promotes entrepreneurship, and aims to spread technology literacy to all undergraduates.
Nguyen and his brother, Kim Nguyen '93, are supporting that mission by establishing the Ben L. Nguyen and Kim P. Nguyen Innovation Fund, a current-use fund that targets pressing research and teaching needs at SEAS, such as faculty and graduate student support, undergraduate research, laboratories and equipment, and course development. Says Kim, "I hope this fund will further Harvard's commitment to leadership, innovation, and social impact."
While an undergraduate, Ben concentrated in biology, lived in Lowell House, and was involved with Phillips Brooks House community service. Although he didn't take engineering classes in college (he says his roommate was one of the few engineering concentrators at Harvard in the 1980s), Ben got exposure while a student at Harvard Medical School. Today he practices neurosurgery—a technology-influenced field—and lives in McLean, Virginia, with wife Yvonne and their two sons, ages 13 and 12.
Kim is the chief business development officer at Pragmatics, an information technology solutions company, founded by their father, that advises civilian and defense agencies such as the Department of Homeland Security. "I've seen first-hand the importance that technology plays in enabling the federal government to meet its mission," says Kim, who also lives in McLean.
As an undergraduate, Kim studied economics, lived in Cabot House, and was involved with Phillips Brooks House, the Harvard Vietnamese Association, the Asian American Association, and the Science Fiction Association. Like Ben, he worked throughout college.
Kim points to outstanding economics professors who encouraged his interest in developing countries, including the late Michael Roemer (his senior thesis advisor), David Dapice (his boss at Harvard's Indochina Program), and Byung-Nak Song, a visiting professor from South Korea. Kim earned his PhD in economics from the University of California, Berkeley.
Asked how Harvard College helped shape him, Kim says: "Being surrounded by students who think big, you can't help being inspired to think big yourself. My fellow classmates motivated me to think about how I could impact the world."
Older brother Ben explains their rationale for creating an innovation fund at SEAS. "I thoroughly loved my time at Harvard," he says. "Although I have been giving back through the years, both Kim and I have reached a point where we could make a more substantial commitment. I hope this fund will spur even greater student and faculty development at SEAS. I can't wait to hear about the future projects that come out of the school."
As seen in HARVARD MAGAZINE
---
Choose Harvard today with a gift to the Harvard College Fund.