From City Hall to Bread Vendors: My Summer as Farmers' Market Manager in Dorchester
A 2012 Summer Community Service Fellowship
November 26, 2012
Annika Nielsen, Harvard College '15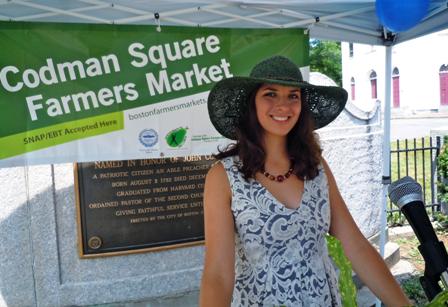 This summer I worked as the market manager of the Codman Square Farmers' Market in Dorchester. I have been involved in this neighborhood for the past three years through a youth-led organization called the Breath of Life Dorchester Teens (BOLD Teens) and was asked by the Codman Square Neighborhood Council to take on the market manager position. This job required a varied skillset, since I had to deal with both the administrative aspects of data collection, booking vendors and obtaining permits and licenses, as well as the customer service needs and management of the market itself. My work entailed contact and meetings with many different people and departments prior to the beginning of the season, including the Inspectional Services Department, the Boston Collaborative for Food and Fitness, Massachusetts Department for Agricultural Resources, Wholesome Wave, and the Codman Square Neighborhood Council. These interactions were a bit daunting at first, since they often involved lots of rules and detailed instructions, such as data entry for the EBT machine or ways to avoid health code violations. However, after the first few meetings I began to see some familiar faces and struck up conversations with other market managers and meeting facilitators. These conversations gave me a chance to learn from those who had much more experience and helped me forge important connections. Through the wise counsel of other market managers, as well as from Cynthia Loesch, the Neighborhood Council vice president and founder of the Codman Square Farmers' Market, I was able to navigate my way through tricky manual vouchers when the EBT machine broke, and the complicated system of ISD's building division to obtain the necessary permits.
One of the biggest challenges I faced was managing my time and dealing with self-imposed deadlines. Though there were people whose advice I sought throughout the summer, from week to week there was no one reminding me to charge the EBT machine or put in a new order of bread from Iggy's. Before the market started I felt somewhat very overwhelmed with all of my responsibilities, but by the end of the year I had come up with an effective system of bookkeeping and planning for the next week.
Planning and executing a kick-off event mid season was a very time-consuming and difficult experience that ended up being the most rewarding and memorable of all of the challenges I faced throughout the summer. In addition to setting up activities and promoting the event throughout the neighborhood, I was also responsible for booking the elected officials to speak at the event, drafting some speaking points for each one, and sending all event details to their offices. Mayor Menino, as well as two state representatives and two city councilors attended and spoke at the event, and I acted as the emcee by delivering opening and closing remarks and introducing each elected official. It was so rewarding to see the months of work that went into this event finally pay off, and to look back and see how far I had come. Not only do I now have contacts at the mayor's office, city hall, and various Boston-based media outlets, but I have also learned how to write a press release and facilitate a ceremony, which are two valuable skills that will serve me well in the future.
This internship truly exceeded my expectations in terms of the skills and experience I ultimately gained. I was expecting to learn about the weekly operation of a farmers' market, and acquire some more customer service experience. What I ended up with was what sometimes felt like a crash course in both management and secretarial work. I now know my strengths and weaknesses; for example, I am able to speak enthusiastically about all aspects the market to reporters, elected officials, or interested customers, but when I am met with a complaint I struggle to keep from getting defensive. I knew I was going to face challenges this summer, though I was met with a few more than I would have liked, including a ninety seven degree day for our first market, and a bread vendor who decided to leave after one week and never return my calls. Ultimately I knew I was going to learn a lot about running a farmer's market, but never foresaw just how many practical life skills I would gain.
I intend to concentrate in Social Studies, though before this summer I was less sure of my focus field. I now know I have a passion for urban food justice and want to pursue my interest in food systems and sustainability. I have already looked into classes about food and food systems, including one about nutrition and another about the history of food production. I have been interested in the public interest sector since I started work with the BOLD Teens in 2009 and I realized that I care deeply about social justice and changing the way people view Dorchester. It became clear to me this summer that working in the public interest sector involves much more than simply an idealistic view of a "better" or more just neighborhood, and requires what sometimes feels like an inordinate amount of planning and motivation, as well as an honest assessment of the true needs of the neighborhood. Time and time again this summer I was reminded that the public interest sector exists to promote and advocate for the best interests of the public, rather than for me and my personal agenda. Sometimes I would take offense to complaints about high prices, but I had to see things from the customer's perspective, and learned to explain the benefits of organic produce and the basics of food justice in a relatable way instead of simply stating that the food is better and fresher. This summer I was able to put my interest in the public interest sector to the test, and I now know that I would like to remain involved in this field, though I want to get some more experience in different types of public interest work before I graduate.
The Codman Square Farmers' Market was founded in 2008 by the Codman Square Neighborhood Council to address the lack of healthy, organic food options within the neighborhood, as well as the prevalence of corner stores and fast food establishments. Silverbrook Farm provides the produce, and each week different local crafters, vendors and organizations are featured. The market accepts food stamps, WIC and Senior Coupons, and is affiliated with the Wholesome Wave Fruit and Vegetable Prescription (FVRx) program, which is run through the Codman Square Health Center.
About Harvard Clubs Summer Community Service Fellowship (SCSF) program
The Harvard Clubs Summer Community Service Fellowship (SCSF) program enables Harvard undergraduates to perform public service all over the world. SCSF is coordinated through the joint efforts of the Center for Public Interest Careers (CPIC) and the Harvard Alumni Association (HAA). Click here to learn more.