Freedom to Change Course
Elizabeth Garcia '16
January 25, 2017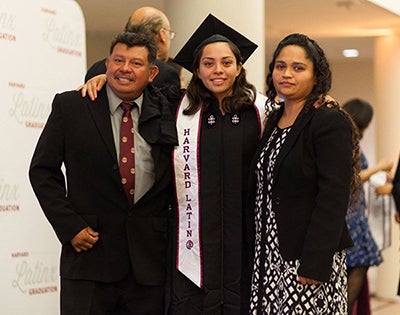 When Elizabeth Garcia '16 graduated from Harvard, she wanted to try something different. She had always believed in giving back—she is a first-generation College graduate whose journey to Harvard was made possible by financial aid. So, while a student taking on coursework in government and economics, she made time to mentor low-income students in South Boston and serve as a director of the student-run Harvard Square Homeless Shelter.
She had also worked on Wall Street as a summer intern her junior year, and they invited her back to join their investment arm for public corporations. Intrigued by the idea of contributing to the public good through the private sector, Garcia took the job. She settled in Brooklyn and began earning a salary that she never imagined.
Within a few months, however, she realized that the job wasn't a good fit. "They were great to me, but I realized that I needed to do something a bit closer to my heart," says Garcia. "I come from very humble beginnings and had always been working for nonprofits."
She's decided to make a course correction and is now planning to move back to her hometown of Bradenton, Florida, to start a financial services firm that will aid small, Latino-owned businesses.
She wants to provide financial planning and professional guidance to help and empower families like her parents, who run their own landscaping business. "I've witnessed firsthand the limitations of having little formal education and no financial education," says Garcia. Her father dropped out of school in the second grade, and her mother in the seventh grade to marry her father. "Although their business is doing exceptionally well, there are many ways they can increase revenues and diminish costs."
Having the freedom and flexibility to take a risk is invaluable, says Garcia.
"Because of Harvard's financial aid program, I am not worried about paying off student debt. Harvard eliminated that burden for me, so my life can be different."
Garcia dreams of running for public office to represent the needs of her community more broadly. She recalls her father's advice, "When you want something to change, you have to be that change."
She is grateful for the opportunities that lie ahead. "I've been able to pursue my passion as opposed to the bottom line," she says. "I'm excited for what's next."