Fiona Hill PhD '98
January 6, 2014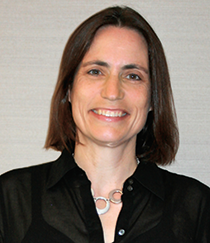 Fiona Hill is a former Frank Knox Fellow with an AM in Soviet studies and a PhD in history from Harvard University, an esteemed author, and director for the Center on the United States and Europe at the Brookings Institution—it's difficult to imagine that her pathway to Harvard began as a chance encounter while making coffee.
While on scholarship with the University of St. Andrews, Hill found herself in Moscow during the Reagan and Gorbachev Summit in 1988. As an intern for NBC's Today Show, she was quite literally making coffee for Maria Shriver when an American professor struck up a conversation. When learning of Hill's uncertainty around her plans for academe, he told her of U.S. scholarships for Russian studies. After several conversations, a few trips to the U.S. Embassy, and many chance encounters with Harvard graduates—Hill found herself applying for Harvard's Kennedy Scholarship and Knox Fellowship.
In sharing the details of her first interview, Hill explains, "I was so nervous, I walked into a broom closet by accident." It was actually Margot Gill, administrative dean of the Graduate School, who swiftly rescued Hill and pointed her to the correct doorway.
Hill's background is humble. Her father was a coal miner and her mother a nurse—Harvard did not seem like a possibility for the Bishop Auckland native. Though academically oriented, graduate studies at Harvard did not seem probable until that fateful day on the Today Show set. Doors opened, the Harvard connection proved strong, and Hill was soon the recipient of the revered Knox Fellowship, on her way to pursue graduate studies at Harvard University.
Upon arriving at Harvard, she was struck by the diversity of the undergraduate and graduate student population. "Harvard's outreach was incredible—their efforts to make Harvard a possibility for all students, regardless of background, was wonderfully evident," she says. Hill quickly immersed herself in the program and became a resident tutor for Cabot House, where she met—and later wed—her husband, Kenneth Keen AM '91.
After achieving her AM in Soviet studies, Hill desired to pursue doctoral work but doubted it was possible. "At that time, the guarantee of funding simply wasn't there," she says. It was then that her adviser, Richard Pipes, took her under his wing to ensure she had the means to pursue her studies as a PhD candidate.
"Absolutely everything I've done—my research, my training, my book—was made possible due to Harvard opening doors and providing me with connections," Hill reflects. "I want to provide today's prospects and students with the same opportunities that were presented to me."