A Family Decision
George '54 and Wendy Walcott '62
March 12, 2018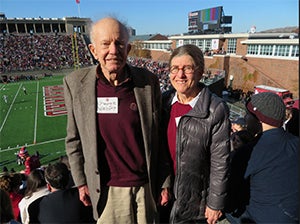 For George Walcott '54, Harvard is family. His father, grandfather, and great-grandfather were graduates, all of his children followed his lead, and he met his wife, Wendy '62, when she was a student at Radcliffe. "We all share a love of Harvard in my family," says George, a retired physician living in Milwaukee, Wisconsin.
To further his family's legacy, George and Wendy consulted the Office of Gift Planning to see how they could give back to Harvard now and into the future. They decided to support financial aid with an outright gift to establish the Walcott Family Undergraduate Scholarship Fund and to expand their impact on future generations of students through a charitable remainder unitrust.
The Harvard charitable remainder unitrust (CRT) is a separately managed charitable trust that is administered and invested by Harvard Management Company at no cost to the donors or the trust. The Walcotts receive a fixed percentage of the unitrust's value, as revalued annually, in quarterly payments for life. In addition to providing a potentially growing income, the CRT allows them to enhance their commitment to undergraduate scholarships.
Through his planned gift, George knows that he is championing excellence at Harvard—and expressing his gratitude for what it has meant to his family, past and present.
"This is our chance to pay back for generations of Walcotts who have benefited from Harvard."
His children's experiences at the College and subsequent career trajectories are another reason the Walcotts decided to establish the CRT. "All three of our children are doing well and don't need significant financial support from us," says Wendy. "This freed us to be more generous to Harvard."
Daughter Isabel '91 and her brothers Roger '96 and Wister '88 were particularly pleased with their parents' decision. "We know that making a significant donation to Harvard makes Dad really happy," says Isabel. "It's great to know that future students will enjoy the University as we all did."
For the couple, the planned gift is a valentine to the lifelong ties they've made at Harvard. "I still think of my days as an undergraduate among the happiest of my life," says George. "My classmates are my best friends. I served in their wedding parties and know their children. Harvard is the common thread through these many connections."
Says Wendy, "We're so thankful to have been a part of Harvard."