Ethnic Studies Takes Root
Faculty and Students Revitalize Program with Donor Help
December 15, 2010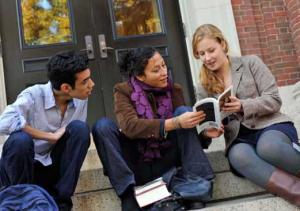 When a handful of undergraduates yearning to study Latino American literature sought her out two years ago, Professor Glenda Carpio organized an impromptu class.
"They said they wanted to read literature that they didn't see on other syllabi. I started working with one of them, and it spread by word of mouth, so I had five students asking to do independent studies," recalls Carpio, a professor of English and of African and African American studies. "We met in a little room in the English department that holds six people."
That makeshift class evolved into a full-fledged course that Carpio taught this fall, called "New Immigrant Narratives," which highlights how contemporary Latina/o writers use formal literary tools to represent the immigrant experience in the context of American literature about immigration. It was a new offering in Harvard's recently revitalized program in Ethnic Studies. "This is a student-initiated class," Carpio says. "Those students have graduated, but I remember them fondly as I teach."
"New Immigrant Narratives" represents the kind of innovative teaching, student-faculty collaboration, and passion for the subject that have marked the evolution of Ethnic Studies. The cross-disciplinary program, which benefits directly from immediate-use gifts to the Harvard College Fund, allows students to examine ethnicity, migration, indigeneity, and human rights issues, comparing the experiences of different racial and ethnic groups in America and beyond—from ancient to modern times.
A standing committee of scholars from the Faculty of Arts and Sciences (FAS) and several Harvard graduate schools oversees Ethnic Studies and its year-old secondary field of study.
"Ethnic Studies is a perfect example of what I believe best characterizes the twenty-first-century approach to liberal arts education," says FAS Dean Michael D. Smith, John H. Finley, Jr. Professor of Engineering and Applied Sciences. "It transcends disciplinary boundaries, forges unusual and fertile connections, harnesses highly creative impulses, and has serious implications for the broader world."
Student-Faculty Champions
Ethnic Studies' path to becoming a formal undergraduate area of study began more than 20 years ago, when the FAS created a fund to invite distinguished visiting scholars in such areas as Native American, Latino American, and Asian American studies. A faculty committee ensured that courses were offered in these under-represented fields, and some visiting positions eventually became full-time appointments in departments. However, the committee went dormant for a while. (Harvard's History of American Civilization program addresses similar issues, but it's a degree-granting program for doctoral candidates.)
Over the years, students called for more classes focusing on specific populations, such as Native and Latino Americans. But, around 2009, driven partly by the growing diversity of the Harvard campus, students began pressing for a broader Ethnic Studies program encompassing various groups. They conferred with faculty, researched offerings at other universities, drafted a policy paper, and set up a Facebook page to publicize their cause.
The students also had champions in University Hall, including Dean Smith and Diana Sorensen, FAS dean of arts and humanities and James F. Rothenberg Professor of Romance Languages and Literatures and professor of comparative literature. The standing committee was revitalized in the spring of 2009, with support from immediate-use funds, and the secondary field's approval followed that November. Professor of History Caroline Elkins currently leads the faculty committee.
One of the students helping spawn the change is Athena Lao '12, of Athens, Georgia, and Cabot House. "It's empowering to share our opinions with faculty, be part of the decision-making process, and have a hand in shaping the Ethnic Studies program," says Lao, a classics concentrator with a secondary field in Ethnic Studies."This is an awesome example of student-faculty collaboration."
Classmate and fellow advocate Jessica Roman-Salazar '12 says the process itself has been profound. "Through this experience and through courses I've taken in the field, I discovered that my true passion is in advocacy work—specifically in educational reform," says Roman-Salazar, a history concentrator from Phoenix and Winthrop House who is also pursuing a secondary in Ethnic Studies.
The Immigrant Landscape
Among other goals, Harvard's Ethnic Studies program aims to help students become better-informed citizens, scholars, and leaders in a rapidly changing and pluralistic world. The issues it addresses are front and center today,as the United States moves toward a "majority minority" population and grapples with pockets of intolerance against Muslims, illegal immigrants, and other groups.
Ethnic Studies courses are drawn from departmental, General Education, and other classes within the FAS and several Harvard Schools, including the Divinity, Education, and Law Schools. They span numerous disciplines, among them anthropology, government, history, and sociology, and address such topics as "Ethnic Cleansing and the Making of Nation-States," "Mexican American Crossings," "World Religions in Boston," and "Continuing Oral Traditions in Indigenous Communities."
Glenda Carpio's class on "New Immigrant Narratives" piqued the curiosity of Herbert Castillo, a freshman from North Hollywood, California, and Matthews Hall who, like Carpio, came to the United States from Guatemala as an adolescent. Castillo heard about the English department course from his freshman advisor, shopped it, "and fell in love with it," he recalls. "What attracted me most was the required reading list and the general topic: the literary tradition of immigrants to the United States. This literature examines pain, isolation, yearning, hope, violence, humor, and other elements that show the diversity of immigrant experiences."
Like Castillo, Leah Reis-Dennis '13, a history and literature concentrator from Eugene, Oregon, and Eliot House, was drawn to the syllabus and to Carpio's scholarship and passionate teaching style. She hadn't expected to relate to the material so personally. "My great-grandma emigrated from Eastern Europe in the early twentieth century, fleeing anti-Semitic persecution," Reis-Dennis explains. "This class has made me more aware of the current immigrant landscape in the United States, and helped me reflect on the similarities and differences between the present Latino/a immigrant experience and what my great-grandmother went through almost a century ago."
Critics may see Ethnic Studies as politically correct or infused with "identity politics," but Carpio and others believe the field is misunderstood. Ethnicity, she explains, is a social and cultural construction, and there is value in studying how ethnic groups in America have evolved and redefined themselves through time. "The class examines how the illusion of ethnic authenticity is stylistically created in literary texts," says Carpio. "This thinking is informed by the work of Professor [Werner] Sollors, who has long championed Ethnic Studies at Harvard."
A Reason to Wake Up
Ethnic Studies is sustained largely by flexible, immediate-use gifts that Dean Smith can direct toward academic initiatives not covered by endowment funds. This year, one such gift is supporting the presence of Visiting Associate Professor Lili Kim of Hampshire College, a twentieth-century U.S. historian who specializes in Asian American, women's, and immigration history.
With momentum and enthusiasm for Ethnic Studies high, Caroline Elkinsis working to collaborate with faculty and staff across the University to increase undergraduate opportunities in advising, research, and internships, and to cohost events. "Harvard's financial crisis [of the past few years] has been difficult," she says, "but it has also paid intellectual dividends by compelling many of us to understand better what everyone else is doing."
Many in Ethnic Studies would like to see more full-time faculty appointments; as an important start, the English department has a new position in contemporary American literature with a focus on Asian American literature, thanks to an anonymous donor.
Elkins has also met with Lao, Roman-Salazar, and other undergraduates to help strengthen the Ethnic Studies program. "The students' enthusiasm and thoughtful passion are what get me out of bed in the morning," Elkins states. Students have a strong sense of what they want to learn and how they want to shape the world going forward, "and our job is to make sure they have a curriculum that allows them to do that."