Education in Motion
Flexible innovation funds help faculty and students expand horizons
August 20, 2015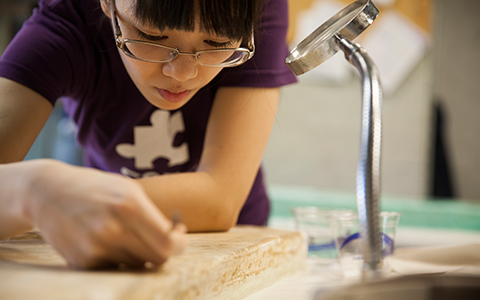 Teaching and learning at Harvard are more exciting than ever. Students are examining paintings in the spectacular new galleries of the Harvard Art Museums. A "smart" classroom in Quincy House's renewed Stone Hall enriches 21st century House life, and interactive maps and other digital tools are mainstays in many classes. Students in engineering and applied sciences courses build robots, apps, and so much more to solve real-world problems.
Some of the most effective new approaches in education require significant investment—to update technology, reconfigure classrooms to encourage teamwork, or support faculty as they develop new courses. Thanks to donor generosity, flexible innovation funds are enabling Harvard to push the boundaries of teaching and learning across disciplines.
Ten years ago, Peter J. Crowley '81 and his wife, Gretchen Kaye-Crowley, of Westchester County, New York, established an innovation fund to help faculty transform the introductory life sciences 1a and 1b course sequence by making it more interdisciplinary, compelling, and relevant. "It's been a resounding success," Crowley says of the revamped courses, which now integrate biology, chemistry, genetics, and evolution.
With Peter's 35th reunion approaching, the couple—whose oldest son, Matthew, is a member of the Class of 2018—wanted to continue that momentum. They augmented their support for cutting-edge life sciences instruction, and they created a second innovation fund to expand undergraduate studies on sustainability and the environment.
"We want to support things that are working well at a high level. There are many curious minds and motivated people at Harvard. It's also important to us to derive pleasure from the things we support. We have gotten back so much more than we have given." —Peter Joost MBA '84
"Each of these areas [health and the environment] has a profound impact on humanity, whether it's diagnosing and treating disorders in people or the planet," says Crowley, who lived in Quincy House and is a dedicated alumni volunteer. "We need to educate the next generation of critical thinkers and leaders so they'll be informed, passionate, and ready to make a real difference."
Advancing the Humanities
Also among Harvard's enthusiastic supporters are Peter Joost MBA '84 and his wife, Lindsay, who contributed to the Harvard College Fund while their son, Oliver '14, studied history at the College. The Joosts consider the humanities "fuel for the mind," and they recently established an innovation fund to advance humanities teaching and research.
"We want to support things that are working well at a high level," Peter Joost says. "There are many curious minds and motivated people at Harvard. It's also important to us to derive pleasure from the things we support. We have gotten back so much more than we have given." One of those pleasures has been meeting Michael McCormick, Francis Goelet Professor of Medieval History, a historian using science to understand the human past—for example, analyzing ice cores to reconstruct European climate over the centuries. "It's infectious to be around him," says Joost. "He epitomizes the great scholar, and he can also make the material come alive for a complete newcomer."
The couple, who live in San Francisco and have three children, hope Harvard's commitment to teaching and studying literature, art, music, classics, and other humanities will underscore the important roles these disciplines play in enhancing individuals' lives and society.
Fueling Progress
With their innovation fund, Bob Doris '74, JD/MBA '78 and his wife, Mary Sauer, are supporting the spirit of discovery and invention that permeates the Harvard John A. Paulson School of Engineering and Applied Sciences. Here, faculty and students are tackling some of the greatest challenges in medicine, big data, the environment, and beyond.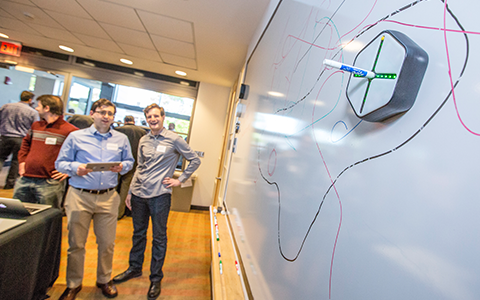 Their innovation fund, along with a scholarship they have established, honors the memory of their first daughter, Clare Marie, who passed away at 16 months after treatment for a rare liver disease. Recalls Sauer, "Clare was a beautiful, brave, and happy child. We feel very fortunate to be able to help young scholars in Clare's name."
"The School is on a roll, and we're delighted to contribute to that," says Doris, who studied government but has focused his career on technology development. He and Sauer (also longtime business partners) reside in California with their teenage daughter, Annie. They hope their gift will help Harvard Paulson School Dean Francis J. Doyle III kick-start promising research projects. Says the couple, "We look forward to learning about upcoming initiatives, knowing that Clare's innovation fund helped make them possible."
ABOVE, RIGHT: Rebecca Chen '16 works to repair a relief, which will adorn the walls of the third floor Mesopotamian gallery of the Harvard Semitic Museum.
ABOVE, LEFT: Raphael Cherney (right), staff engineer at Harvard's Wyss Institute For Biologically Inspired Engineering, demonstrates Root, an educational robot designed for the classroom whiteboard.
As seen in HARVARD MAGAZINE
---
Choose Harvard today with a gift to the Harvard College Fund.