Dreams Take Center Stage
In a Dynamic New Undergraduate Course
January 1, 2010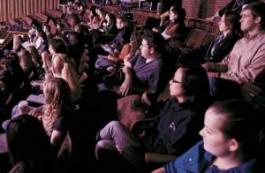 Marjorie Garber, William R. Kenan, Jr., Professor of English and of Visual and Environmental Studies, has delivered hundreds of lectures on William Shakespeare since arriving at Harvard in 1981. She has also written five books on the oft-cited playwright and says he is always on her mind. So when the opportunity arose to teach Shakespeare in a novel way as part of a revitalized undergraduate curriculum, Garber seized the chance.
What emerged is a new undergraduate course that Garber is co-leading with Diane Paulus, artistic director of the American Repertory Theater (ART) and a professor of the practice of theater in the English Department. Called "Theater, Dream, Shakespeare," the class blends art-making and scholarship, and taps into Garber's passion for teamwork and innovation. "I love making up new courses," she says. "It keeps me fresh and alive."
The course is part of Harvard College's new Program in General Education, which launched officially this fall with the Class of 2013. The liberal arts curriculum aims to connect students' classroom learning to life beyond Harvard, and to engage them in scholarly material through technology and hands-on learning. Gen Ed, as it is known, enables faculty members to push the traditional boundaries of teaching, and graduate students to hone their skills in course development.
"This is a new curriculum fit for a new century," says Dean of Harvard College Evelynn Hammonds, Barbara Gutmann Rosenkrantz Professor of the History of Science and of African and African American Studies. "Thanks to our creative faculty and generous donors, we are building a curriculum that reflects the needs of our students to understand the complexities of the world in a different way."
'Like a godsend'
On a brisk October day, the Fong Auditorium in Boylston Hall is nearly full as Garber begins her introduction to "Life Is a Dream," a 17th-century Spanish play by Pedro Calderón de la Barca. She laces together concepts and passages from Susan Sontag, Antonin Artaud, Jacques Derrida, Sigmund Freud, and (of course) Shakespeare, and illustrates the blurry distinction between reality and dream with an optical illusion projected on the screen. Partway through the two-hour class, Paulus joins Garber in orchestrating a lively discussion tying the varied texts to a production recently seen as part of the course.
This collaboration evolved from a visit that Paulus paid to Garber—one of her former professors—shortly after her appointment last spring. Paulus, an acclaimed director of theater and opera whose recent Broadway revival of "Hair" captured a Tony Award, wanted to mount a not-your-average Shakespeare festival during her first season and turned to Garber for advice. Garber helped conceive the name, "Shakespeare Exploded!," and suggested creating a course around the season.
With a green light from the Gen Ed program-— "I thought it was a fantastic idea," recalls Dean of Undergraduate Education Jay M. Harris— the two spent months conferring as Garber developed the syllabus. The challenge was to build a narrative from three productions in the ART festival: "The Donkey Show," a disco adaptation of "A Midsummer Night's Dream"; "Sleep No More," a multisensory work inspired by "Macbeth" and Hitchcock; and "Best of Both Worlds," a gospel/rhythm and blues musical linked to "The Winter's Tale."
"The first thing I asked myself is, what do these three plays have in common?" says Garber. "And the answer was dream and nightmare. As the course makes clear, they're really foundational to how people have thought about theater for thousands of years."
In addition to reading plays by Shakespeare and others, students attend the ART productions, meet the artists involved, write theater reviews, analyze literary criticism, and discuss how artists wrestle with theoretical ideas such as "What is an adaptation?" The class draws both English and non-English concentrators, and there are 40-plus students enrolled online from as far away as Japan through the Harvard Extension School. All the lectures are videotaped for the class website.
Lauren Weiss is a senior physics and astrophysics concentrator from Rochester, N.Y., who also loves creative writing. She signed up to fulfill an English requirement and was "completely blown away by Professor Garber and Diane Paulus" on the first day of class. "'Theater, Dream, Shakespeare' has all sorts of pleasant surprises, like the free student pass to ART productions," Weiss notes. "I'm also excited about the option of replacing the second critical paper with a creative project; I plan to write a short play that draws upon the material we've covered."
English concentrator Meagan Michelson, who grew up in Everett, Mass., had long wanted to take a class with Garber and was thrilled to see this one being offered. "It was like a godsend," she says. "I love that the course marries performance with analysis so that we can read a text and then go see 'The Donkey Show' or 'Sleep No More' and be able to speak intelligently about the experience."
The six graduate students serving as teaching fellows meet weekly with Garber to discuss both content and pedagogy. Suparna Roychoudhury, who has been involved since the course's inception, says the class "is quite different from anything I've taught before. It's got a lot of moving parts."
Appreciating old and new
Both Garber and Paulus hope their Gen Ed offering will help nourish an appreciation for the past, as well as plant seeds for the future. Students learn, for example, that although they are viewing the material through 2010 eyes and using 21st-century technology and terminology, many of the concepts are old.
"Terms like 'remix' and 'mash-up' come from new technology, but we want to show our students that this mixed-media mode goes back to ancient Greece and to Renaissance England, that technology has always been with us," reflects Garber, who chairs the Department of Visual and Environmental Studies and is director of the Carpenter Center for the Visual Arts. "Nothing is really new; things are newly reinvented. A few weeks ago, we showed images of an open-air theater in ancient Greece, where the acoustics are so perfect that you don't need any amplification. This was thousands of years ago."
The colleagues hope their Gen Ed effort will encourage a lifelong appreciation of theater. "My mission," Paulus explains, "is that every Harvard student has a transformative experience of the arts, that being a Harvard student means you are touched in a way that will impact your contribution to the arts, whether you go into journalism, finance, or politics."
"Theater, Dream, Shakespeare" has not only exposed students to fresh ways of approaching theater and the arts, it has given Garber and Paulus a chance to stretch themselves intellectually. "I feel very fortunate to be able to do this at Harvard, to be able to do this with Diane," Garber says. "It's absolutely thrilling for me on a daily basis."