Design Thinking for All
Students master innovation at the Harvard School of Engineering and Applied Sciences
August 13, 2014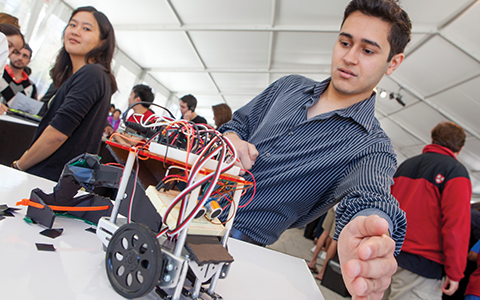 A mind-controlled car. Sustainable water filters for Uganda. A low-cost patch for delivering chemotherapy drugs. Cake batter that sprays into the pan. Software that helps police track crime.
These and many other clever and game-changing inventions have emerged from design-based classes at the Harvard School of Engineering and Applied Sciences (SEAS). The popular courses provide hands-on experiences for concentrators and non-concentrators alike to develop the technology literacy that is essential for leading in today's world.
"For some students, these design exercises completely change their lives," says 
SEAS Dean Cherry A. Murray, John A. and Elizabeth S. Armstrong Professor of Engineering and Applied Sciences and professor of physics. "High-level abilities like solving problems, working with a diverse team, learning from failure, critiquing ideas, and understanding 
complex ethical and societal issues come together as a student develops 'design thinking.' These leadership skills generate both confidence and humility—and 
these are the skills that real-world challenges demand."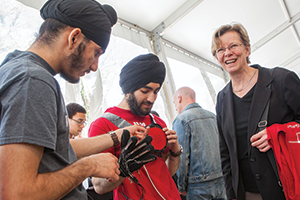 SEAS students have won design awards, secured patents, and published research in journals, and many of them continue to refine projects after their design classes have ended.
Anchored in the liberal arts, SEAS helps to foster the development of what Murray calls "T-shaped individuals"—students who have deep technical expertise in their own concentrations as well as broad knowledge in other fields.
Gifts to support SEAS, a priority of The Harvard Campaign for Arts and Sciences, fuel the School's continued growth in innovative teaching and research; this includes augmenting design courses in engineering and applied sciences.
These funds also bolster SEAS' planned expansion within the Harvard campus in Allston, which will provide more flexible classroom space, design studios integrated with machine shops, undergraduate labs with prototyping equipment like 3D printers, and the space to "dream big" and build large-scale projects.
On the pages linked below, you'll meet undergraduates who, collaborating with peers and coached by dedicated Harvard faculty, have invented tools to send scents remotely, measure runners' times with new precision, and help people with aging or injured knees walk more comfortably.
Related:
As seen in HARVARD MAGAZINE
---
Choose Harvard today with a gift to the Harvard College Fund.