Dean's Fellows Support Excellence and Emerging Ideas
December 13, 2012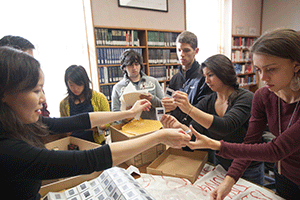 A course that uses 3-D computer models to virtually transport students to ancient Egypt. An annual painting salon led by the co-Master of Quincy House. Handheld devices that help a life sciences professor tell whether his lectures are sinking in. An engineering class that spurs "blue-sky ideas" to address global needs.
These are some of the innovative approaches to teaching and learning made possible through flexible, immediate-use funds to Harvard's Faculty of Arts and Sciences (FAS). Such dollars give exceptional students from around the globe an unmatched liberal arts education, both inside and outside the classroom.
The Dean's Fellows are a select group who have contributed $1 million in unrestricted, immediate-use funds. These empower FAS Dean Michael D. Smith to invest in emerging ideas and initiatives. Dean's Fellows represent the highest level within the Harvard Yard Society, whose names are inscribed on a recognition wall in University Hall.
Among the Dean's Fellows is Neil W. Flanzraich '65, JD '68 and his wife, Kira, of Coral Gables, Fla. "I have been very fortunate in life and have always felt a deep sense of gratitude and obligation for what Harvard has done for me," says Flanzraich, who lived in Lowell House, concentrated in Slavic languages and literatures, and was a member of Phillips Brooks House, Harvard Hillel, and Phi Beta Kappa. An investor in privately owned biotechnology companies, he is an "expert-in-residence" this year with Harvard Law School and the Harvard Innovation Lab. Flanzraich gives to Harvard in an unrestricted way because, he explains, "I believe the University knows better than I do how my gifts can best be used."
Robert D. Lindsay '77 and his wife, Teresa, of Locust Valley, N.Y., are also Dean's Fellows. At Harvard, Lindsay lived in Winthrop House, concentrated in English and American literature and language, and played freshman hockey. Lindsay's Harvard fundraising activities include co-chairing his 35th reunion gift committee.
"While targeted endowment gifts are highly important, their impact is felt over a long period of time. Unrestricted gifts allow the Harvard leadership to address critical strategic needs immediately," says Lindsay, co-managing partner at Lindsay Goldberg, a global private equity company in New York City. "Excellence is expensive and should be treasured. Tally up the contributions made by Harvard students and educators to the world's betterment, and it would be hard not to see a gift as producing a wonderful and priceless return."
---
Choose Harvard today with a gift to the Harvard College Fund.