Dean's Gifts 
a 'Win-Win' for Students, Family
October 20, 2014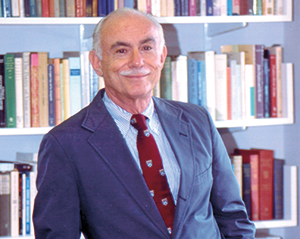 Michael Shinagel PhD '64, the longest-serving dean in Harvard University history, calls investing with Harvard a "win-win."
Shinagel retired as dean of continuing education and University extension in 2013 after 38 years of service to the Division of Continuing Education, including 36 years as dean. Shinagel says his Harvard annuities offer several advantages: his children receive a dependable stream of yearly income from the accounts established for them, and his deferred charitable gift annuities help create a secure retirement fund for him and his wife, Marjorie.
And there are other benefits.
"You invest in Harvard, which I think is a safe investment, and you get a tax deduction. You also get a reasonable rate of return over time, and when you pass on, or when the people you have done annuities for pass on, the money reverts to Harvard," he says.
Shinagel's gifts will also support a cause he is passionate about: scholarships for students in need at Harvard Extension School. A charitable remainder unitrust will benefit the Dean Shinagel Scholarship Fund at the Extension School as well as the School's general charitable purposes.
"I care very deeply about access for deserving socioeconomically disadvantaged students," he says. "It has been my great sense of satisfaction over the years to give a Harvard education to students who normally wouldn't come."
Shinagel has long been dedicated to making a Harvard education accessible and affordable. As a graduate student working in Harvard College's admissions office, he once recommended an applicant who did not fit the profile of a typical Harvard student. The student attended Harvard, graduated cum laude, went on to receive graduate degrees in education, and eventually became a high school principal.
"My hope for my scholarship fund is that we get more people like that and do some good in the world," Shinagel says.
Shinagel first came to Harvard in 1957. After graduating with a PhD in English in 1964, he went on to teach at Cornell University and Union College. He returned to Harvard in 1975 as director of the Division of Continuing Education before being named dean of the Extension School in 1977. He has held a number of other roles at Harvard: He was a master of Quincy House from 1986 to 2001, a tutor at Eliot House, and president of the Harvard Faculty Club. He also worked with the Harvard Foundation, chaired the Committee on Dramatic Arts in the Faculty of Arts and Sciences, and served on the boards of the American Repertory Theater and the Harvard COOP.
Harvard students will continue to benefit from Shinagel's teaching as well as his gifts; he remains at the Extension School as a distinguished service lecturer in extension, teaching graduate courses on satire and the English and American novel.
"There's an old saying attributed to Confucius: If you find work that you really enjoy, you'll never have to work another day in your life," he says. "I've always valued the opportunity to do the things I've done. Harvard's always been a home to me."
---
Contact University Planned Giving to learn more about making a planned gift.