The Convener: Dahianna Lopez
February 7, 2015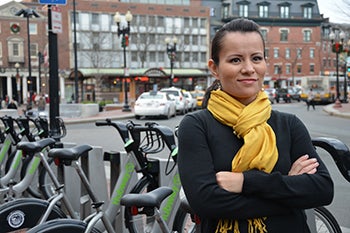 What does a map of every reported bike accident over the past four years in Boston look like? This online resource—the Bike Crash Map—shows a constellation of incidents throughout the city, highlighting clusters of metropolitan hot spots for bikers. The new tool gives city officials, engineers, advocates, and policymakers a visual of the data critical to improving bike safety on Boston streets.
This database would not have happened without Dahianna Lopez, a woman fascinated by the intersection of transportation and public health. An emigrant from Mexico and a longtime resident of California, Lopez earned two master's degrees, worked as an emergency room nurse, and completed a study of pedestrian safety at the University of California's San Francisco Injury Center. But she wanted to do more.
"One of the things that I had found in my injury research was that I was hitting a wall when I was looking at data," Lopez says. She decided to face her fear of statistics by enrolling in the Graduate School of Arts and Sciences' PhD program in health policy with a track in evaluation sciences.
"There is an emphasis here on building statistical intuition," she says. "My statistics intuition was telling me that if I had adequate data and could apply what I knew from experience, I could find a richer way to understand bicycle collisions and safety."
The challenge was that there was no one clearinghouse of information in Boston. To collect the kind of data she needed, she knew she had to help convene local and state agency resources—not the easiest thing to do for an out-of-towner.
Lopez found that her graduate work not only helped her identify what variables were important, but also helped her work with many different groups.
"The interdisciplinary aspect of the program helped me figure out how to talk to these various groups and build connections," she says.
She was able to work as an intern in former mayor Thomas Menino's office, in the Boston Police Department, in the Boston Transportation Department, and for policy advocacy groups like the Boston Cyclist Union. She sifted through data from police reports and looked at all the variables she could.
"I've realized I'm good at bringing people together," says Lopez. "Harvard has given me the confidence to do this, to be a leader."
The result is the city's first comprehensive study: The Boston Cyclist Safety Report. Lopez then collaborated with the Boston Area Research Initiative to make an online interactive map of the crashes and to make the data available for public download.
In the future, Lopez hopes that she'll be able to do policy work at the U.S. Department of Transportation and National Transportation Safety Board.
"Harvard taught me that anything can happen," says Lopez. "If you dream it, you can do it. That's something I've never felt anywhere else."