Counting His Blessings
Wesley Gardenswartz '83, JD '86
February 4, 2011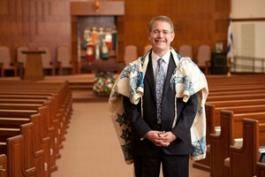 Every morning that Wesley Gardenswartz '83, JD '86 begins his day as senior rabbi at Temple Emanuel in Newton, Massachusetts, he says a blessing for his good fortune. The youngest of six children whose parents owned a kosher grocery store in Denver, Gardenswartz came to Harvard College in the late 1970s thanks to a financial aid package that included a Donald N. Pritzker Memorial Fund scholarship.
"Those four years shaped the trajectory of my life," he says. It was at Harvard that Gardenswartz learned essential skills he uses today as spiritual leader to a 4,250-member congregation: how to write well, voice his ideas clearly, remain open-minded, and interact with a variety of people. "I had never met so many fascinating, fabulous, and diverse people," he recalls.
Fast Fact: Access
The number of low-income students at harvard has increased by 36 percent since the financial aid expansion launched in 2004.
He also discovered the healing power of community when, after his father's death during junior year, a group of students gathered twice a day at Harvard Hillel to help Gardenswartz say the Kaddish, a Jewish prayer for mourners.
Gardenswartz, who concentrated in history and lived in Leverett House, went on to Harvard Law School— where he met his wife, Shira Goodman JD '87—and practiced litigation in Boston for seven years. But he couldn't forget the rabbi back home who had helped him cope with his grief, and Gardenswartz yearned for work with a more personal impact. "I wanted to go into the rabbinate to be with people in the dark days, the dull days, and the great days of life," he explains. "I thank God every day that I'm a rabbi.