Cornelia Oberlander BLA '47: Force of Nature
Landscape architect has spent the past six decades greening our urban spaces.
January 8, 2014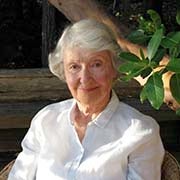 Cornelia Hahn Oberlander BLA '47 was 11 years old when she realized—with some conviction—that she wanted to be a landscape architect. Sitting for a portrait in the Berlin studio of a prominent German artist, Oberlander observed a mural that depicted an imaginary town on the Rhine River. She asked the painter to explain the green spaces that dotted the artwork. "Parks," the artist replied. "When I came home," Oberlander recalls, "I said: 'Mother, I want to do parks.' And Mother replied: 'Then you'll have to learn how to drive a bulldozer.'"
During a career spanning 60 years (and counting), Oberlander has done her fair share of parks. A pioneer in the field of sustainable design, an early proponent of green roofs, and a champion of collaboration, Oberlander has been called the dean of postwar female landscape architects, and her extensive oeuvre shows why. She once said that her dream is "green cities with green buildings where rural and urban activities live in harmony." Often dressed in a green jacket, Oberlander is still actively fulfilling that dream at age 92.
"Landscape architecture is a fabulous field that is more in demand than ever," she says. "We need to take care of our environment. We have to have places to play for children. We have to have places for recreation. It means having a corner in the city, and a bench, and a tree to sit and contemplate away from a very busy world."
From Berlin to the Arctic Circle
Oberlander got her hands dirty at a young age. Her mother, Beate Hahn, a well-known horticulturalist and children's book author, had her tending a garden plot at their home in the suburbs of Berlin when she was 4. In 1939, the family fled Germany and landed in the United States, where they eventually settled on a New Hampshire farm, supplying vegetables to the local town and corn to the army. "I was a hands-on farmer," Oberlander says.
"We need to take care of our environment. We have to have places to play for children. We have to have places for recreation."
From those early days in Berlin, Oberlander's passion has taken her all the way to the Arctic Circle, where she is at the tail end of a seven-year project—at a school in Inuvik, in Canada's Northwest Territories—that seeks to address climate change and educate native populations about food security in Canada's unforgiving north. "In the Arctic, there are no nurseries," she says. "What can you grow in minus-forty-degree temperatures?" Collaborating with local architect Gino Pin on the recently opened school, Oberlander perfected her idea to collect seeds from the area, propagate them in Vancouver, and return the plants to become part of the school's landscape—helping the children understand their native ecology.
Climate change is never far from Oberlander's mind, and confronting it has been a motivating force in her career. "We have climate change like you wouldn't believe," she says. "It's so dramatic. Up in Inuvik, when we started the job in 2006, I sank into the melting permafrost up to my knees. People didn't believe me. People thought I just misstepped."
A green pioneer
More than three decades before her encounter with the Inuvik permafrost, Oberlander was already demonstrating what would become a career-long commitment to sustainability by creating one of North America's earliest green roofs (plant-covered rooftops that lower cooling costs and reduce stormwater runoff). The three-block-long work of art in Vancouver's Robson Square, which Oberlander calls "one of the most exciting examples of a green roof," brought nature back into the city. Her name would become synonymous with the landscape practice. "Nobody talked about green roofs in 1974," she says. "It's become a trend now."
Oberlander is currently working to reinvent another of her iconic green roofs, at the Vancouver Public Library. She is turning the space, currently inaccessible to the public, into what the library calls a "garden in the sky." The original planted roof, completed with architect Moshe Safdie in the early nineties, reduces the amount of rainwater flowing into the city's sewers. "This was proven by Public Works Canada in a two-year research study," she notes. Recently, the green roof she designed for Vancouver's VanDusen Botanical Garden Visitor Centre, mimicking the petals of a native orchid, won the International Green Roof Association Green Roof Leadership Award.
"Nobody talked about green roofs in 1974," Oberlander says. "It's become a trend now."
Closer to the ground, Oberlander speaks fondly of another of her sustainable triumphs, the C. K. Choi Building, which houses the Institute of Asian Research at the University of British Columbia (UBC). "This building does not connect to the storm sewer; it does not connect to the sanitary sewer. The windows open to a forest. It's fantastic," she says. "It was a team of three women who put it together. We are so proud of it."
Oberlander has a reputation for being a meticulous researcher. It's a trait she learned while studying at Smith College in Northampton, Massachusetts, where an exacting librarian instructed her to "go to the sources." (Oberlander, with landscape architect Shavaun Towers, crafted a landscape master plan for Smith College's 125-acre campus in 1995.)
"I do not do any work unless I research until I am blue in the face," Oberlander says. Her signature style is that she doesn't really have one. "Every project is built on new ideas fitting the site, the climate, the sun, the wind, and its use."
Seeds of collaboration
Speaking of the way she approaches her work, Oberlander says, "You can't do these things in a vacuum. You have to have many collaborators on your team." In that vein, she has spent her career teaming up with an eclectic range of professionals and some of the world's most influential architects, such as Arthur Erickson (their 35-year partnership inspired the roof gardens of Robson Square and the Canadian Embassy in Washington, D.C., and the landscape of the Museum of Anthropology at UBC), Moshe Safdie (they also collaborated on the National Gallery of Canada), and Renzo Piano (she designed the interior "contemplative courtyard" for his New York Times building in Manhattan with landscape architect Henry White MLA '82).
For Oberlander, the foundation for a life of collaboration was laid in Cambridge in 1943, when she was one of the first women admitted to Harvard's Graduate School of Design (GSD). Oberlander describes being "elated" by the letter from GSD Dean Joseph Hudnut admitting her to Harvard. Her desk in Robinson Hall, she recalls, was opposite that of Lawrence Halprin BLA '44, who would go on to become a good friend and "one of the greatest landscape architects of the 20th century. I admired his drawings," she says.
"I do not do any work unless I research until I am blue in the face. Every project is built on new ideas fitting the site, the climate, the sun, the wind, and its use."
At GSD, Oberlander was given "four important everlasting tools": basic design, conceptual thinking, collaboration, and beauty. One of her professors, German modernist architect Walter Gropius, described beauty as being "a requirement for a civilized life." "We don't talk much about beauty today," Oberlander remarks wistfully. Gropius, she says, "made sure we collaborated with other professions. And that is the key to my work."
Harvard also introduced Oberlander to her husband, the late H. Peter Oberlander MCP '47, PhD '57, whom she met on a school picnic at Walden Pond. Peter Oberlander was an architect, Canada's deputy minister of urban affairs, the founder of the School of Community and Regional Planning at UBC, and a founding father of UN-HABITAT, the United Nations Human Settlements Programme. Consequently, he was often away from home for long stretches.
When asked about obstacles in her career, Oberlander points to her personal and professional worlds: "To create a happy home, with a busy husband, three children, and yet have a little room for myself to create—that was the biggest challenge," she acknowledges.
'A painter can't put the brush down'
Oberlander sometimes visits her work at the UBC Museum of Anthropology, which she says is among her proudest achievements for the way it captures "the spirit of landscape architecture and Canada's First Nations people." She enjoys observing the body of water in the museum's grounds, which she finished in 2010. "This completes the outdoor museum."
When prompted, Oberlander admits that she has advanced her profession. "People come to me and say, 'Oh, Cornelia, you just bring the bushes.' I look at them and say, 'Oh no.' " She speaks proudly of her recent American Society of Landscape Architects Medal, the profession's highest honor. "I think that is the biggest award I could receive."
Still working into her 10th decade, Oberlander is as passionate about her calling today as she was when she was 11. "A painter can't put the brush down," she says. "I can't put my mind away from creating places for people of all ages and addressing the needs of our time.
"It is important at this point in my career to mentor the younger generation, and it gives me satisfaction to pass along my knowledge of the field of landscape architecture and my philosophy of five p's—patience, persistence, politeness, professionalism, and passion."
---
More alumni: Read about Allistair Witten EdM '03, EdM '10, who has a vision for education in his native South Africa.