Conversation Starters: Harvard Takes on the Big Questions
April 16, 2010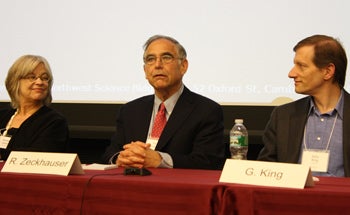 Can we prevent the next financial crisis? Why do women still make less money than men? How do our social lives affect our genes? These are just some of the questions posed by a group of leading economists, psychologists, political scientists, and other social scientists at a unique public forum, "Hard Problems in Social Science," held on April 10 at Harvard.
In a daylong symposium in the Northwest Science Building, 12 experts each were given 15 minutes to name the most important problems in social science and how we might begin to solve them. "It was like intellectual speed dating," says organizer Stephen M. Kosslyn, divisional dean of the social sciences.
Discussions ranged from complex philosophical issues to pragmatic problems affecting people's everyday lives, from diabetes management to charter schools to voting clusters. More than 100 attended the free event, while many more watched the live webcast. Since Saturday, more than 800 have visited dedicated Facebook and Twitter pages and are now submitting posts and questions in response.
Planned jointly by the Division of Social Sciences in Harvard's Faculty of Arts and Sciences and the Indira Foundation, the symposium was proposed by foundation member Nicholas A. Nash '00, a chemistry and physics concentrator at the College and a vice president in the New York office of General Atlantic, a global growth equity investment firm.
"We were delighted that experts from so many fields of study could participate in this kickoff event," says Nash. "Many of the hardest social science problems are fundamentally multidisciplinary in nature, with insights from one field helping to unlock answers in others."
The effort was inspired by the work of legendary mathematician David Hilbert, who in 1900 challenged the world to solve 23 fundamental and difficult mathematical problems. Since then, scholars have solved 10 of the original set and the exercise has opened up a world of inquiry and invaluable discoveries.
"Hilbert made two powerful observations," says Nash. "First, having important, unsolved problems is essential to the vitality of a discipline. And, as important, by identifying and articulating those problems, we can help to inspire future generations of researchers to solve them. My favorite example is the physicist Erwin Schrodinger's 1944 book, What Is Life? In it, he asked that very question and challenged the world to discover the molecular basis of heredity. An aspiring ornithologist read that book and elected to become a geneticist. That young man was James Watson, who went on to win a Nobel Prize for his work on DNA."
Kosslyn and Nash worked together to expand the idea, hoping to elicit Hilbert-like problems in the social sciences.
"It really appealed to me. We have a platform here and it is very good for Harvard to utilize that as an opportunity for thinking big and reaching out to the world," says Kosslyn.
For 18 months, Kosslyn, Nash, and Jennifer Shephard, special initiatives program manager for the Division of Social Sciences, collaborated to recruit a lineup of unconventional thinkers.
"It was crucial to make it a cross-disciplinary conversation," says Shephard, "so that the psychologist was talking to the economist and talking to the sociologist. These problems cannot be solved within their individual fields alone."
Panelists included Nick Bostrom of the University of Oxford; Ann Swidler of the University of California, Berkeley; Nassim Taleb of New York University; Emily Oster of the University of Chicago; James Fowler of the University of California, San Diego; and Harvard's Nicholas Christakis, Roland Fryer, Claudia Goldin, Richard Zeckhauser, Susan Carey, Rob Sampson, and Gary King.
"It was great that the event was able to reach out beyond the walls of the room, with undergraduates watching from the Houses, people outside of Harvard on the website, and others from around the world writing in questions," says Kosslyn.
Shephard and organizers have set up an interactive poll on the symposium's website, where people from around the world can vote over the next 45 days on what problems they think are the most acute. The results will be announced in June.
"This effort is all about inspiring people to ask important and provocative questions," says Nash. "Our hope is that the pursuit of solutions to these hard problems will lead to insights and new fields of learning that are as important as the specific solutions themselves."
Supporting the symposium represented a logical choice for the Indira Foundation, a Connecticut-based charitable organization dedicated to benefiting programs that can make a difference in the fields of education, health care, and social welfare.
"It was an opportunity to catalyze an activity that could have potentially huge impact," says Avi M. Nash, who, with his wife Sindhu, is a trustee of the Indira Foundation and parents of Nick and Ami Nash '10. "The 'Hard Problems' initiative could, in turn, stimulate a lot of creative thinking on the part of many great minds globally, leading to a lot of benefits for all."
"Our objective is to do good in different ways around the world," says Nick Nash. "We were really excited about having this event here."
Nash has felt a strong tie to Harvard ever since his undergraduate days. "I'll always be grateful for my time here," he says, remembering being taught by biochemical sciences faculty member Roberto Kolter as a sophomore. "To have that incredible mentorship with a faculty member at a young age really speaks to the kind of place that Harvard is."
Take the poll or watch a video of the event.
Read more about the symposium in the Harvard Gazette or the Wall Street Journal.
Photograph by Angela Alberti.